Home › News › 2018 YEAR IN REVIEW: A year of inspiration and triumph over adversity
---
2018 YEAR IN REVIEW: A year of inspiration and triumph over adversity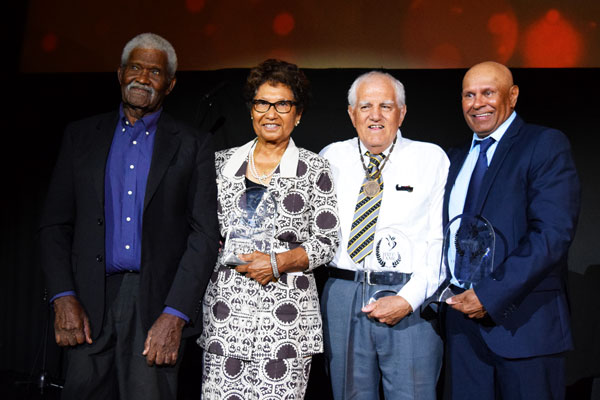 LEGENDS: (L-R) Members of the PNG Sports Hall of Fame, Edward Laboran, Kea Kapulu Swarz, Keneth Hopkins and Charles Martin. Swarz, Hopkins and Martin were inducted in November this year while Laboran who was one of two inaugural inductees in 2011, was a special guest at this year's ceremony. PHOTO: PNG Olympic Committee.

The Papua New Guinea Olympic Committee had one of our proudest moments in sport this year when three medals were won by Team PNG at the Commonwealth Games for the first time during the Gold Coast Games in Australia in April.
All three medals came from the sport of weightlifting through PNG's champion trio, Steven Kari, Morea Baru and Dika Toua. Toua added to her two previous Commonwealth medals won in 2006 and 2014, while Kari became Team PNG's first dual Commonwealth Games gold medalist.
The government showed its appreciation and support for the efforts of the athletes by offering incentives of K100,000 for a gold medal, K50,000 for silver and K25,000 for bronze at the Commonwealth Games. The incentives were presented to the medal winners on July 6 at the PNG Olympic Committee office in Port Moresby.
Chef de Mission, Tamzin Wardley led the team of 52 athletes and 32 officials attending the Games at the Gold Coast competing in 10 of the 23 sports on offer.
Team PNG competed in Athletics (including Para-Athletics), Boxing, Lawn Bowls, Rugby 7s, Shooting, Squash, Swimming, Table Tennis (including Para-Table Tennis), Triathlon and Weightlifting. Para Table Tennis athlete, Vero Nime carried the PNG Flag at the Opening Ceremony and her performance along with her fellow Team PNG athletes demonstrated excellence against the best of the Commonwealth.
In March, Toua was awarded as the 2018 Female Athlete of the Year at the SP Sports Awards based on her achievements from 2017. Her male counterpart, Ase Boas from rugby league took out the Male Athlete of the Year award also based on his achievements from the previous year.
Following a highly successful sporting year for PNG sports in 2017, the SP Sports Awards was a heavily contested affair with all finalists staking their claim.
Legendary Australian ski-jumper, Jacqui Cooper was the guest speaker and provided a lot of inspiration for everyone present at the ceremony.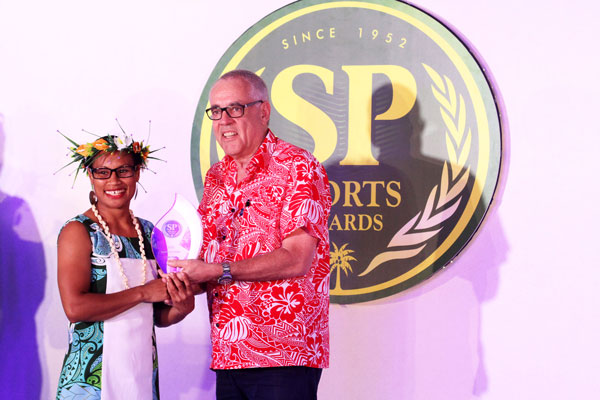 BEST FOR THE YEAR: PNG weightlifter, Dika Toua receiving her award for the Female Athlete of the Year in the SP Sports Awards from SP Brewery Managing Director, Stan Joyce. PHOTO: PNG Olympic Committee.
Team PNG under the guidance of Chef de Mission, Karo Lelai, also competed at the Buenos Aires Youth Olympic Games (BAYOG) which was held in the capital city of Argentina from October 6 to 18.
A team of three athletes and six officials attended the YOG with Natalie Mok and Terence Coleman competing in golf while Leonard Kalate was the lone male competitor in swimming. It was the first time for Team PNG to have Golf athletes as part of our Youth Olympic Games contingent. It was also the first time to have an athlete to compete back to back in to major Games in the same. This was a feat achieved by swimmer and Team PNG's Flagbearer for BAYOG, Kalate who backed up in the pool after swimming for Team PNG at the Gold Coast Commonwealth Games earlier in 2018.
This was the third edition of the YOG with Team PNG participating in all three editions since its inception. Our latest YOG athletes grew from their BAYOG experience with PNG's Young Change Maker, James Leia ensuring the athletes took part in the various Cultural Education Program activities with new friendships developed.
Leia was also part of PNG's delegation which attended the historic Olympism in Action Forum immediately prior to the BAYOG. The Forum was attended by over 2,000 participants representing organizations from within the Olympic Movement and those that work in areas the International Olympic Committee is focused on as part of its Agenda 2020.
PNGOC was proud to have Karo Lelai, an Executive Board member and PNG Athletes Commission and Oceania National Olympic Committee (ONOC) Athletes Commission Chairperson, voted in as the Chairperson for Association of National Olympic Committees (ANOC) Athletes Commission.
Attending these international engagements and giving Team PNG athletes the opportunity to represent their country would not have been possible without the support of our members, partners, sponsors, families and the general public. Trukai Industries Limited, Kumul Petroleum Holdings Limited, Exxon Mobil, Coral Seas Hotels, Air Niugini, SP Brewery, Capital Insurance, The National, Theodist, Media Partners, Blue 7 Team, Trophy Haus, are all thanked for their support to the PNGOC and Team PNG.
This support came in a magnitude again at our events, beginning with the Trukai Fun Run on June 24. Over 50,000 people attended the Fun Run in Port Moresby alone with additional numbers in 20 other centres nationwide.
PNGOC's second largest fundraising event, the Prime Minister's Corporate Golf Challenge also drew much support from the corporate sector with 51 teams participating in the September 21 event in Port Moresby.
While focusing on raising funds and preparing Team PNG for major international events, PNGOC continued to run its training and awareness programmes.
A third batch of Team PNG athletes completed their training in the organisation's flagship programme for athletes, Team PNG HERO. Twenty-one male and female athletes from various sporting codes attended the training which ran from August 13 to 17 at the Gateway Hotel in Port Moresby. Several of our new Team PNG HERO athletes have already taken on their athlete role model responsibility and delivered HERO activities throughout the nation.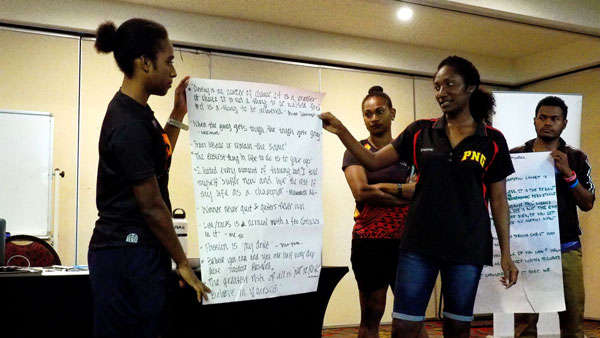 PRESENTATION: Team PNG athletes making a presentation during their week long training in the third Team PNG HERO training course at the Gateway Hotel in Port Moresby. PHOTO: PNG Olympic Committee.
HERO athletes are called upon to be a part of all of our sport for development programs including Voices of the Athletes (VOA), Love Your Coast (LYC) and the Olympic Values Education Program (OVEP).
In 2018 PNGOC delivered OVEP and LYC sessions in Port Moresby, Lae, Wewak, Goroka, Mt. Hagen and the Southern Highlands. The OVEP program was also delivered as part of our week-long set of activities as part of the Olympic Day celebrations.
School visits lead into a sports demonstration event which also included the display of Olympic Values themed student artwork. The culmination of the celebrations was the first ever Olympic Day Relay of Unity, where over 387 participants took part in a day-long relay event symbolizing the power of sport to bring people together in a non-competitive way and the importance of physical activity.
HERO athletes also spread the message of 'Be A Leader, Play True, Play Safe' and 'Go Green' by delivering VOA sessions at the Under 18 Oceania Hockey Youth Olympic Qualifiers held in Port Moresby, the Oceania Swimming Championships, Under 15 FIBA-Oceania Championships, National Netball Championships and National Squash Championships.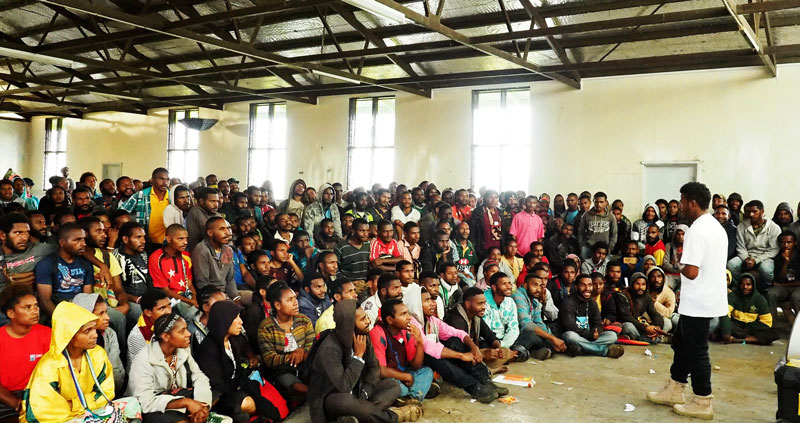 MEETING THE CROWD: Students from a school in Goroka listen to a presentation by Team PNG HEROs during their visit to the province to deliver the Olympc Values Education Programme (OVEP). PHOTO: PNG Olympic Committee.
The hosting of regional tournaments signified the development of several of our member National Federations. PNG Olympic Committee's focus on supporting and developing the capacity of National Federations continued in 2018. Leading this area is the Oceania Sports Education Program (OSEP).
A super week of OSEP courses were delivered by PNGOC in conjunction with fellow OSEP training provider, the PNG Sports Foundation. Also delivered in 2018 was the second edition of the Managing of Olympic Sports Organisations (MOSO II).
PNGOC also delivered the first of three Team PNG Elite Performance Coach Education Program course workshops for the first time to national team coaches. The program is the project of PNGOC Performance Coordinator, Chris Amini as part of his participation in the United States Olympic Committee International Coaching Enrichment Certificate Program which saw him spend time at the US Olympic Committee's headquarters this year.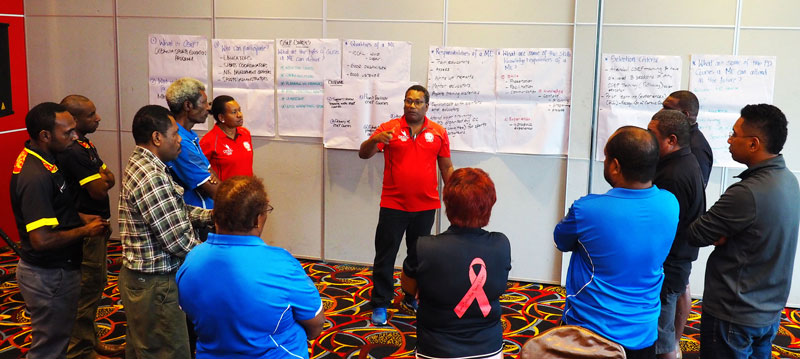 SPORTS LEADERS: Coaches and sporting administrators undergo training during the OSEP Super week in June. PHOTO: PNG Olympic Committee.
Two new National Federations were welcomed at our 2018 Annual General Assembly. They are the PNG Wushu Kung Fu Federation and Gymnastics PNG who were voted in as members. We look forward to working with Wushu and Gymnastics along with all of our other member National Federations to see the growth of their sports and sport in PNG. Along with developing their sports, our NFs also focused efforts on preparing athletes for the 2019 Pacific Games which will be held in Apia, Samoa.
Three former champion athletes who represented the nation in its early years were recognized for their achievements and contribution in November this year. All-rounder, Kea Kapulu Swarz, Boxer, Kenneth Hopkins and swimmer Charles Martin were inducted into the PNG Sports Hall of Fame.
Swarz and Hopkins were members of the first PNG team to the first Pacific Games in Suva in 1963 while Martin was an outstanding swimmer in the late 1960s to 1970s who also took out the Sportsman of the Year award.
Kenneth is also the country's first ever Commonwealth Games medalist after winning the bronze in the 1962 Games in Perth, Australia.
There were also moments of hardship and loss, not just for the PNG Olympic Committee but the country as a whole.
This began with the 7.5 magnitude earthquake in Hela Province that destroyed, homes and properties as well as loss of lives.
PNG Olympic Committee committed itself to supporting the relief effort through the sale of Team PNG merchandise for the Commonwealth Games with K10,000. The Commitment was fulfilled on December 18 with a presentation in Port Moresby to the Salvation Army who are handling proceeds toward the restoration and recovery in the province.
It was a sad moment for the organization and for the nation as well when Life Member and former President of the PNG Olympic Committee, Sir Henry ToRobert passed away on October 18.
Sir Henry was the first Governor of the Bank of Papua New Guinea who took on the reigns as President of the PNG Olympic Committee from 1980 to 2000 and then again from 2003 to 2012 and was made a life member of the organization. Sir Henry was well respected for his time at the helm as he guided PNGOC through a series of significant milestones and his leadership was vital to our organization's evolution.
PNGOC wishes everyone a peaceful, safe and joyful Christmas and a wonderful New Year celebrations.