---
A sporting Wonder Woman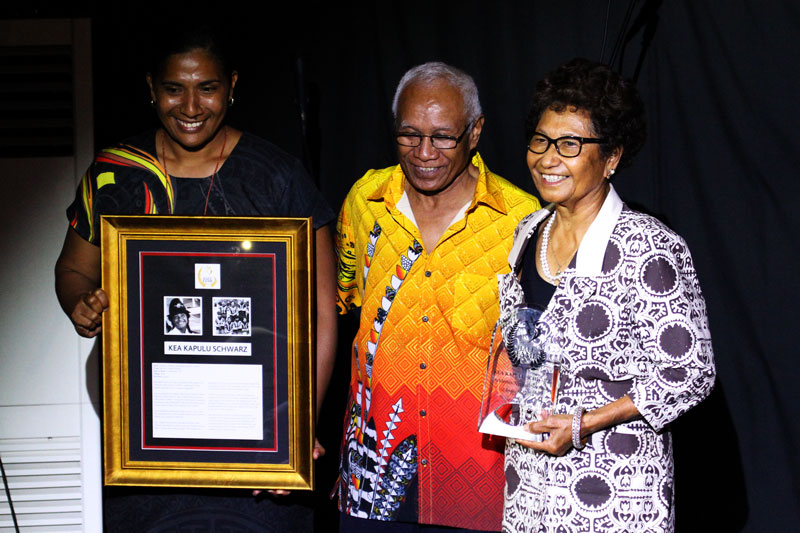 HONOURING A LEGEND: Swraz (right) with PNGOC President, Sir John Dawanincura and former PNG Netball team captain, Lua Mavara Rikis. PHOTO: A. Molen/ PNG Olympic Committee.
She excelled in almost every sport she tried but it was netball, softball and athletics that she triumphed the most.
Kea Kapulu Swarz always had a love for sports because it pushed her to always give her best and to improve every time she fell short of her desired result.
"I love sports and also didn't like to lose so I kept trying and bettering myself," she said.
Swarz first sport was softball where she was a dominant player but she soon found the love of another sport while she was based in Rabaul with her husband, Ludwig in the 1960s.
Being a woman from Hula in the Central Province where the sport is popular, she took it to heart naturally.
Swarz also took up athletics and was selected to represent the Territory of Papua and New Guinea (TPNG), as PNG was known then, at the first South Pacific Games in Suva, Fiji in 1963.
There she competed in the Shot Put event in athletics and also netball which was known then as Women's Basketball.
Swarz's team included Rita Flynn, Pam Flaherty, Vele Raula, Lyn Allen, Lohia Tau, Eli Kila, (Bogia) Idau, T. Morea and Josephine Abaijah.
The Women's Basketball (netball) program was in a round robin format and was contested by Fiji, Western Samoa, American Samoa, Niue and Territory of PNG.
TPNG lost their final match to Fiji in a close encounter 28 – 23 but got the bronze medal based on the count back. Fiji got the gold while the Silver to Western Samoa. The bronze was PNG's first ever medal in netball at the South Pacific Games.
Swarz said the Games were an exciting times for them as they got to meet different people from around the Pacific and made new friends.
"There were a lot of dancing and singing and we had a really good time.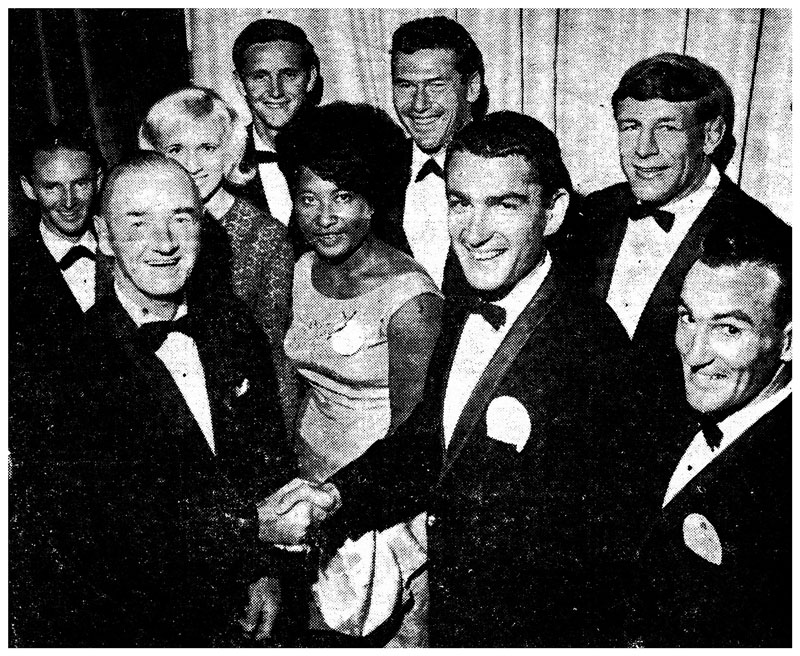 GROUP OF CHAMPIONS: Swarz with the other nominees of the 1966 Australian Sportsman of the Year Award.
"The only problem we had was the language barrier because some spoke French and their own languages but we got along well and had many funny moments too," she recalled.
Apart from her athleticism, Swarz also participated actively in sports administration. While in Rabaul, she was recognized for her involvement in sports and as a result was appointed onto the East New Britain Sports Council. She was the only Papua New Guinean on that council.
One of Swarz's revered moments was when she won the PNG Sportsman of the Year Award in 1966 and had to go down to Australia as the nominee from the Territory for the Australian Sportsman of the Year Award.
"It was great to be among some of the great sports men from Australia, I was very privileged and honoured to be among them," she said.
The same year she represented the Territory in softball to the World Series in Melbourne, Australia.
Overcoming odds in a time when sports and most activities were dominated by men, Schwarz was among some of the first female athletes from PNG who showed the world the sporting prowess and athletic talents of PNG women.
She plays golf these days and while the pace of the game may have changed, she still does it with the same wining ambition that got her started in the first place.