---
A Year of Action under a New Direction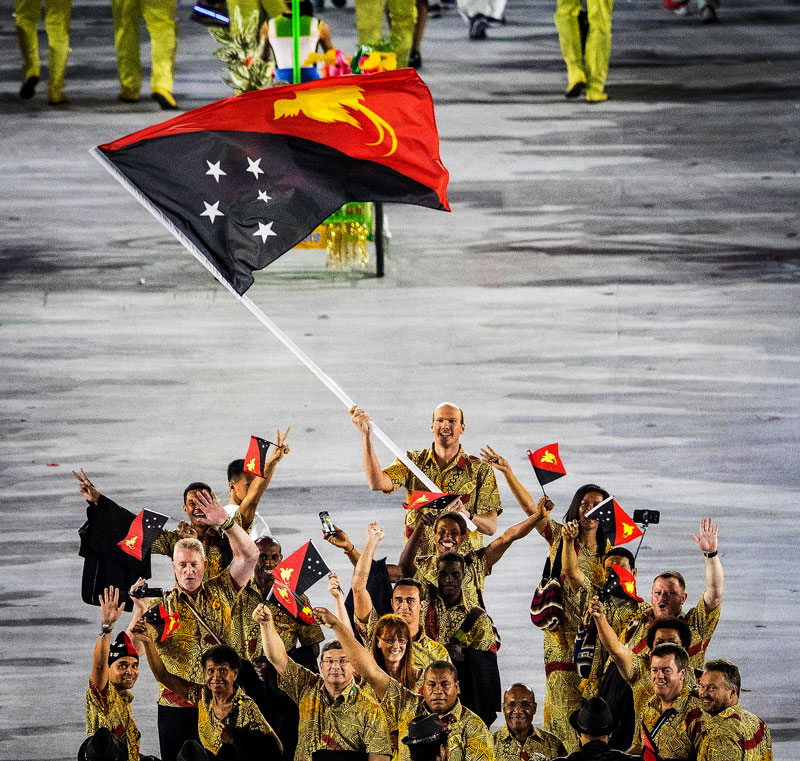 WAVING BACK: Team PNG at the Olympic Games in Rio in August this year. PHOTO: J. Pini/ Team PNG.
Year In Review
It has been another full year for the Papua New Guinea Olympic Committee with focus in 2016 directed towards the staging of its annual events as well as Team PNG's participation at the biggest international sporting event the Olympic Games.
2016 also represented the first year under the PNGOC's new Strategic Plan 2016-2020. Through this period the organization is guided by its vision to "Inspire and Unite Papua New Guineans through Sporting Excellence and Success." It was this vision and our strategic direction that motivated our efforts throughout the year.
The new strategic plan was formally adopted by members at the Annual General Assembly held in May. Members also adopted a new constitution with key changes to electoral process, staggered terms of office for executives and the requirement for member federations to be incorporated.
In line with the new constitution, PNGOC has developed revised Terms of Reference for its various committees and has established the Gender Equity Committee.
The AGA also saw President Sir John Dawanincura given the mandate to continue in the role for another four-year term, along with Mel Donald – Senior Vice President, Emma Waiwai – Female Vice President, Syd Yates – Chairman of Fundraising, Vincent Bull - Legal Advisor and Tamzin Wardley – Treasurer. The sole new board member to be elected was Michael Henao, in the position of Male Vice President.
The appointment of PNGOC Board Members in 2016 to international positions is recognition to the work of the organization. The most notable was the appointment of PNGOC Secretary General, Auvita Rapilla as a Member on the International Olympic Committee during the 129th IOC session in Rio on August 4th. She was among eight new members elected.
Another notable appointment was of PNGOC Board member and Treasurer, Tamzin Wardley who was elected as Treasurer for the Pacific Games Council. She joined Athlete Representative Ryan Pini on the PGC Executive.
The PNG Olympic Committee traditionally has a calendar full of activities.
The week surrounding Olympic Day on June 23rd was celebrated with a series of activities targeted at schools and communities to promote the Olympic Movement and living a healthy and active lifestyle based on the three pillars of "Move", "Learn", and "Discover".
Similar activities were carried out throughout the year through the Olympic Values Education Programme (OVEP), which up-scaled in 2016 through support provided by ExxonMobil. The programme visited schools and communities in Kimbe, Hides and Kaparoko amongst other places, to provide awareness on the Olympic Values of Friendship, Excellence and Respect through interactive learning sessions. It emphasizes that these values often found in sports can be associated to all aspects of life.
With the selection of Port Moresby in 2016 as one of seven pilot cities from around the world for the global Active City programme, PNGOC will be partnering with NCDC and Governor Powes Parkop in bringing the message of sport for all and sustainable health to city residents.
Providing athletes with opportunities to inspire and assisting them to develop their personal capacity is a core element of the work of PNGOC. With this in mind, an inaugural group of Team PNG athletes underwent training through the PNGOC H.E.R.O programme. The H.E.R.O programme which stands for PNGOC's values of Honesty, Excellence, Respect and Openness is a training programme that aims at equipping Team PNG athletes with the necessary skills and expertise to be role models for their sport and their communities.
Leading the way as athlete role models has been the PNG Athlete Commission through its chairperson Karo Lelai and her team. The Athletes Commission hosted the Athletes Fun Day on December 10 under the theme 'Education Through Sports'. Athletes were exposed to important information from a range of organisations which focused on developing them as individuals and athletes.
Under the auspices of its Love Your Coast sport and environment programme, PNGOC joined its partners to participate in environment and community clean up and awareness campaigns. This saw beach clean-up activities in Lealea village, Ela Beach and a community clean up in Down Town Port Moresby with the US Embassy. PNGOC also partnered with Sustainable Coastlines PNG on their NCDC supported Clean-Up Mosbi campaign.
The focus on enhancing the capacity of its member National Federations was provided for by PNGOC through the Oceania Sports Education Programme training programmes delivered over the year. This included the training of more Master Educators and Educators and the completion of the first PNG MOSO course.
Recognition of those involved with sport is important to PNGOC and the 2016 SP Sports Awards saw a record number of 7 awards given to Team PNG members for their efforts in 2015.
This year the PNGOC also had the honour of inducting five of PNG's sporting legends into the PNG Sports Hall of Fame. This year's inductees were weightlifting siblings, David and Jackson Seeto; former sprinter, Salitia Pipit; swimmer, Nigel Cluer and boxing legend, Tumat Sogolik. They join the first Hall of Fame inductees Sir John Kaputin and Edward Laboran in PNG sports immortality.
The Trukai Fun Run was as popular as ever in 2016 with over 50,000 participants hitting the streets to take part in the nationwide event on June 26, with 30,000 from Port Moresby alone. The brilliant sponsorship from Trukai industries of the Fun Run saw seven centres around PNG joining in the event.
Adding to PNGOC's fundraising efforts was the Prime Minister's Corporate Golf Challenge held in Port Moresby supported by The National. Twenty-nine teams representing various organisations came together for the annual battle on the greens, with IBS crowned the 2016 winners.
PNGOC's fundraising efforts this year were to support Team PNG's participation at the Rio 2016 Olympic Games in Brasil. The team of eight athletes under Chef de Mission Emma Waiwai's leadership represented the country with pride.
Weightlifter, Morea Baru finished a fantastic 6th in the men's 62kg division. Baru lifted a total of 290kg, a remarkable achievement by the young lifter on his first Olympic appearance.
Boxer, Thadius Katua also left a lasting impression when he entered the Olympic ring for the first time. The 19 year-old fighter came out firing and despite a controversial decision going against him, he managed to win the hearts of all who watched him.
PNG's first and only Judo Olympian, Raymond Ovinou competed at his second Olympics in Rio. Also on the mat, it was a family affair in Taekwondo with the aunt-nephew combination of Samantha and Maxemillion Kassman taking on the world's best in their opening bouts in the women's and men's divisions respectively.
PNG women's sprint champion, Toea Wisil blazed the Olympic tracks, qualifying on merit for the Games for the 100m. The fiery sprinter finished fourth in her race with the winner of her race, Elaine Thompson going on to claim the Olympic gold.
Wisil's athletics team mate, 200m runner Theo Piniau, another debutant at the Games described running in his 200m heat race as "amazing" and has vowed to use the experience to develop himself further to become a force in his sport.
"I love representing my country and to be able to do it four times at the highest level of sporting competition is something very special." The words of Ryan Pini after competing in his fourth Olympics at Rio 2016. The champion swimmer was also one of 24 candidates who contested for the International Olympic Committee Athletes Commission elections during the Rio Olympics. Ryan is a fantastic ambassador for PNG and PNGOC congratulates him on all of his wonderful achievements.
Thank you for this year and see you in 2017.
Secretary General of the PNG Olympic Committee, Auvita Rapilla said it was a demanding year but was made easy with teamwork and good support from the organization's corporate partners, members and stakeholders.
"We could not have done it without the support of all our partners, members and families. Our work involves working with different people and we'd like to thank all those who participated in our programmes and campaigns throughout the year.
"I hope that we have inspired Papua New Guineans through the positive messages of our programmes and the achievements of our own Team PNG athletes," she said.
2017 will be another big year for PNGOC with three international events in its sporting calendar. These are the Commonwealth Youth Games in Nassau, Bahamas from July 19 to 23, the Asian Indoor and Martial Arts Games in Ashgabat, Turkmenistan from September 15 to 24 and the Pacific Mini Games which will be held in Port Vila, Vanuatu from December 4 – 17.
PNGOC wishes everyone wonderful Christmas and a Successful New Year and looks forward to working with all the partners and stakeholders for another interesting and exciting sporting year.