Home › News › Athletes Commission bringing athletes together
---
Athletes Commission bringing athletes together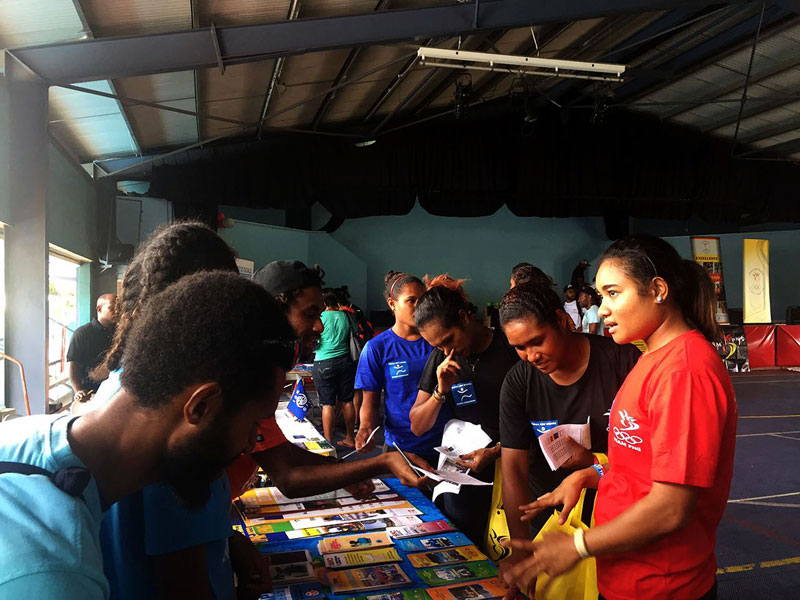 IMPORTANT INFORMATION: Athletes getting information from the booths at the Fun Day. PHOTO: PNGOC.
The Athletes Commission of Papua New Guinea with the support of the Papua New Guinea Olympic Committee has always had the welfare of their athletes as the centre of focus.
Apart from supporting them to get the best training and preparations for the best performance results, the athletes' life after their sporting careers is also an important aspect that is looked at.
This is one of the main ideas behind many of the programmes hosted by the PNGAC. One of this which was held on Saturday, December 10 was the Athletes Fun Day.
A first of the AC, the Athletes Fun Day with the theme; 'Sports To Educate' had fun activities and events on the day designed to create team bonding among athletes. There were also information booths set up by corporate houses and NGO's aimed at developing the athletes as individuals.
Participating organisations included, POM General Hospital / Youth Blood Drive, Institute of Business Studies, Electoral Commission, PNG Jobseek, ASRH Project - Peer Education, United Nations (SDG's), International Organisation for Migration, Marie Stopes, Population Services International (Seifraida), UNFPA, High Performance Sport PNG (PNGSF), Sustainable Coastlines PNG, Kreativ Kanaka and Voice Inc. PNG.
The information booths were an important part for athletes and helped educate them about a lot of things including, how to vote in next year's national elections, family planning and sexual & reproductive health and the Sustainable Development Goals. There was also a Blood Drive which saw athletes donate blood to help save lives. They also had their CV's registered for employment opportunities.
AC Chairperson, Karo Lelai thanked the athletes for turning up and participating in the event and encouraged them to get as much information as they could during events like this and make use of them.
"This is for the athletes and we encourage them to make use of the opportunity as well as to have fun and share their experiences with others," Lelai said.
She also thanked Theodist, BMobile, PSI, Bank South Pacific, Interoil and National Gaming Control Board for supporting the event with prizes and Ela Murray International School for allowing the use of their venue.
Papua New Guinea athletes sacrifice a lot of their time and effort training and competing for their country. Many times they struggle with funds and resources to help them. Despite that, they continue to do what they love, playing their sport.
The Fun Day aims to bring them together to enjoy the day and have the opportunity to learn new things and share experiences in a team environment.
"Some athletes are not fortunate to have access to the kind of information that was delivered on the Fun Day that is why it was important to bring them together and to get educated too, in a fun way," Lelai said.
More than 70 athletes turned up on the day and participated in various activities.
"The fun day was actually very informative! Learnt a lot and it was quite fun! Everyone looked joyful and seemed to enjoy it!" said PNG Barramundis bowler, Norman Vanua.
The event was the first ever Fun Day organized by the AC with the aim of making it an annual event.
"Athletes from all sports were invited to come and the satisfying part for me was that the Athletes went home having learned something important about themselves and how they can become better athletes and citizens," said AC member, Chris Amini.
The AC also talked about its role and the selection policies, they shared the 2017 calendar of events for Team PNG and briefed athletes on upcoming games in 2017.