Home › News › CPL Group supports Team PNG Athletes to the Tokyo Olympic Games
---
CPL Group supports Team PNG Athletes to the Tokyo Olympic Games
The CPL Group have come on board as a sponsor In Kind to the value of K30,000 to provide much needed support to Team PNG Athletes who are currently vying to qualify for the Olympic Games to be held in Tokyo in July 2021.
Twenty-nine athletes across ten sports are currently being supported by the PNG Olympic Committee (PNGOC) to pursue their Olympic dream. Of the twenty-nine athletes, two athletes from the sport of Sailing have already realized their Olympic dream after gaining two sports for Team PNG in the Men's Laser and Women's Laser Radial events. The other athletes are still in their qualifying stages and will be looking to achieve their Olympic Dreams when qualification competition resumes in 2021.
The athletes and their coaches have been preparing and training extremely hard over the last couple of months, in very challenging circumstances, and will be continuing on as qualifying events begin to resume in their respective sports. And this support from CPL will go a long way towards bringing them closer to realizing their dreams.
As part of their preparations, staying healthy and injury free is crucial in maintaining their fitness and nutrition, which is a key aspect to achieve this. All the athletes come from different circumstances, with some able to provide for themselves with a job or have good family support. While others, however, are not that fortunate, at times are not able to maintain a nutritious diet that can contribute to stay healthy and fit to compete for Team PNG.
The sponsorship will see the athletes provided with support to purchase food and toiletries, which will go towards supporting their welfare and wellbeing as well as assist with their everyday living expenses.
In announcing this partnership, CEO of CPL Group, Mr. Navin Raju, touched on the importance of Sports, as a tool for development and providing the support for PNG athletes to excel on the international stage. CPL is proud to support the endeavors of Papua New Guineans and especially our elite PNG athletes who have been training and working extremely hard in these challenging circumstances. It brings great satisfaction to us to support our fellow Papua New Guineans in a big global event such as the Olympic Games and we are a proud PNG company that supports Papua New Guineans.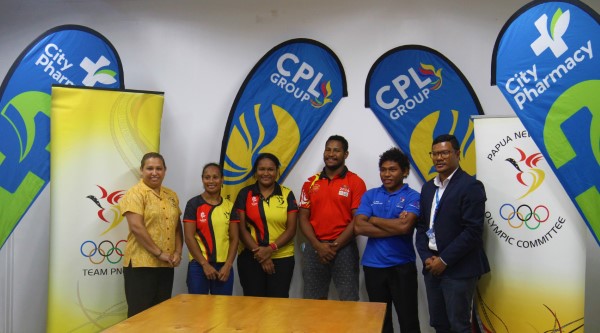 IMAGE CAPTION: Tokyo 2020 targeted athletes with CPL General Manager of Strategic Marketing Mr.Kevin Alo and PNGOC Secretary General Mrs.Auvita Rapilla. [Photo T.Parr/PNG Olympic Committee]
"We are proud to know that through our sponsorship, we are making an impact not just only individually but developing successful athletes and sports in PNG".
"Our support is in line with our value; we care — for our community, customers and people. By giving back to the community we serve, and we demonstrate our commitment to this value".
In acknowledging CPL Group's support, Secretary General of the PNG Olympic Committee Auvita Rapilla, expressed her gratitude to CPL Group for their wonderful support towards Team PNG as they stay focused and continue to prepare to qualify for the Olympic Games in Tokyo, Japan.
"CPL has a long and proud history of investing and contributing towards the development of sports in PNG and PNGOC is proud to partner with them in this journey".
"Nutrition plays a big role in our athlete's preparation in ensuring they remain fit and healthy throughout this period. What a fantastic way to achieve this by collaborating with a proud PNG company that values the community and at the same time is able to provide valuable support for our aspiring athletes". Mrs. Rapilla added.
The Tokyo Olympic Games will be held from 23 July to 8 August 2021.