Home › News › ExxonMobil PNG backs Olympic Values Education Program for second year
---
ExxonMobil PNG backs Olympic Values Education Program for second year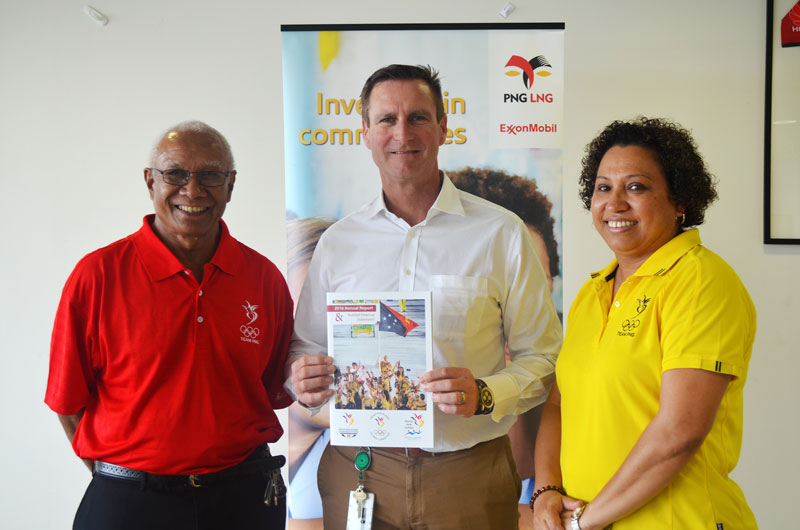 OVEP SUPPORT: ExxonMobil PNG Managing Director, Andrew Barry presented with a copy of the PNGOC Annual Report by President, Sir John Dawanincura and Secretary General, Auvita Rapilla during their meeting yesterday to acknowledge ExxonMobil's support of the Olympic Values Education Program (OVEP). PHOTO: ExxonMobil PNG.
Great news for the Papua New Guinea Olympic Committee (PNGOC) as ExxonMobil PNG Limited has come onboard for the second consecutive year as the major sponsor of the Olympic Values Education Program (OVEP).
The K231,700 support will ensure the OVEP continues to integrate sporting values and physical activity into a cultural and educational framework promoting the three Olympic values of Respect, Friendship and Excellence. Both organisations believe in the power of education to improve the nation.
ExxonMobil PNG has supported OVEP since 2015. The program was extended to other centres in the country reaching over 3,000 students from schools in the Central Province, Port Moresby, Lae, Kimbe, Mendi, Alotau and Mt.Hagen in 2016.
ExxonMobil PNG's support will further extend the program to more students and schools throughout PNG. PNGOC's focus is to take the program to PNG LNG project areas. These provinces include Hela, Southern Highlands, Gulf and Western.
"Sports provides a great platform to teach youth about strong values and how their families and community benefit when they apply those values to their lives more broadly," said ExxonMobil PNG Managing Director, Andrew Barry.
"The unifying factor that sports brings cannot be underestimated and we fully support the values of teamwork, respect, friendship and excellence, for these are the same values our workforce applies every day in everything we do for PNG LNG," said Mr. Barry.
The OVEP will continue to encourage students and children to recognise ways in which these values are displayed in their everyday life.
A unique aspect of this education program is the facilitation of the sessions by Team PNG athletes, who have been trained in PNGOC's flagship program, Team PNG HERO.
The Team PNG HERO program has equipped Team PNG HERO athletes with knowledge and facilitation skills to go out to schools and communities to share their sporting experiences and values to help children and youth perceive the world positively.
"We are grateful to have ExxonMobil PNG support OVEP," said Secretary General of PNG Olympic Committee, Auvita Rapilla.
"The Olympic values are positive values that not only transcend sport but all aspects of life. The program has seen a great connection between the athletes and students, with both benefiting from
the sessions," added Mrs. Rapilla.
PNGOC recognises that sport is an enabler for human development and nation building and hence have aligned OVEP to its vision to "Inspire and Unite Papua New Guineans through Sporting Excellence and Success."