Home › News › Flood of nominations expected for 2018 SP Sports Awards
---
Flood of nominations expected for 2018 SP Sports Awards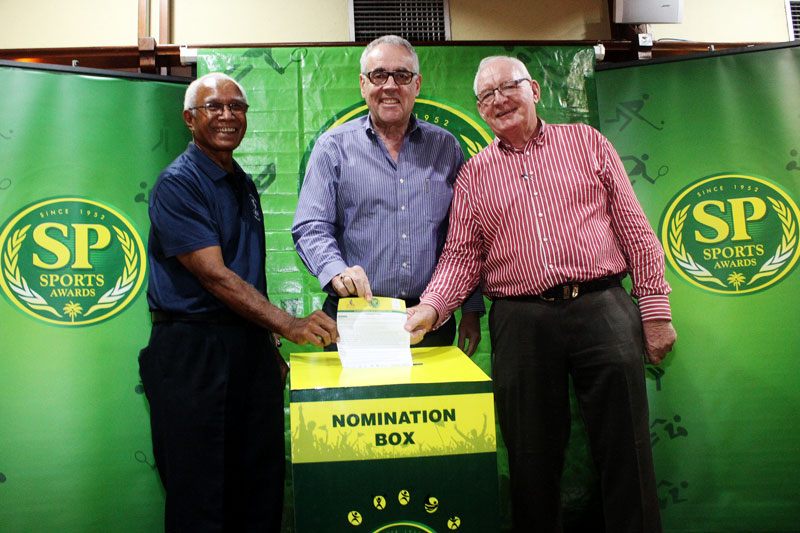 RECOGNIZING ACHIEVEMENT: (L-R) PNGOC President, Sir JOhn Dawanincura, SP Brewery Managing Director, Stan Joyce and PNG Sports Foundation Chairman, Graham Osbourne drop in a nomination to mark the start of the SP Sports Awards for 2018. PHOTO: A. Molen/ PNG Olympic Committee.
A flood of nominations is expected from across the country for the 2018 SP Sports Awards following its launch at the Brew kettle in Port Moresby today.
President of the Papua New Guinea Olympic Committee, Sir John Dawanincura said during the launch that 2017 featured some great sporting moments for Papua New Guinea which should see a lot of nominations coming in to honour these achievements.
He highlighted the performance of the SP Hunters, PNG LNG Kumuls, Team PNG, AFL PNG Mosquitoes and the PNG Games as some examples of the achievement and performance of PNG sports men and women.
"These are some examples of the achievement of our sports men and women and everyone that had a hand in their success in 2017.
"These accomplishments deserve to be recognized and the people involved congratulated for their efforts," Sir John said.
He thanked SP Brewery for continuing to recognize sports through the SP Sports Awards and also acknowledged the organisation for its support to sports in various capacities.
SP Brewery Managing Director, Mr Stan Joyce, at the Launch described sports as the glue that units people and their passion to be the best by winning that elusive title.
"All of us would recall our memorable sporting moment where you watched your favourite sporting athlete cross the finish line or score that winning goal. We're here today to give recognition to our elite athletes that have put our country on the map through sports.
Personal sacrifice, commitment and support is the foundation for any athlete to succeed. SP Brewery understands the challenges faced by athletes and continue to bring to PNG the annual SP Sports Awards,' he said.
Over its' 65 years of establishment, SP Brewery has fostered lasting partnerships, especially with stakeholders such as the PNG Olympic Committee and PNG Sports Foundation.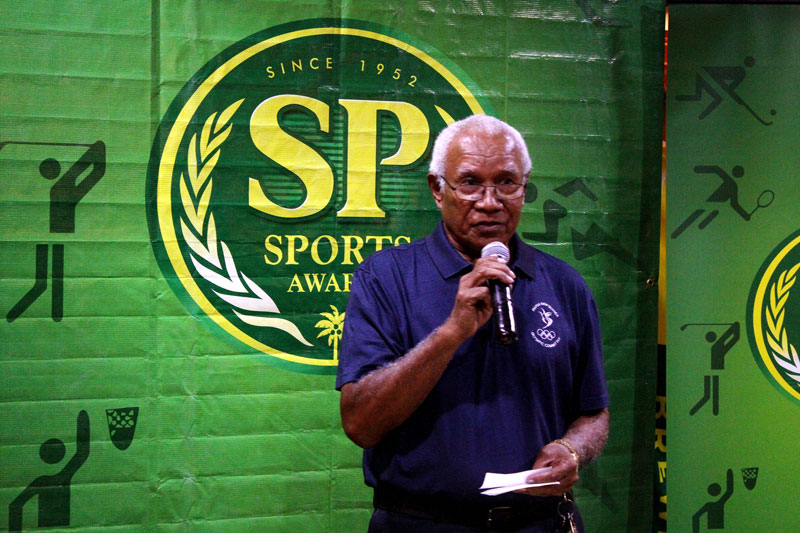 LONG HISTORY: Sir John shared a brief history about the SP SPorts Awards adding that SP Brewery is PNGOC's longest serving sponsor. PHOTO: A. Molen/ PNG Olympic Committee.
"Last year we received more than 60 nominations and will look to generate more nominations this year," said Mr Joyce.
"Again, I thank our family of sponsors that have continued to be part of this great sporting event and we look forward in partnering with you. I have no doubt the Awards will be bigger this year and I have been assured by the Organizing committee that no stone will be left unturned as we bring to you the 26th SP Sports Awards on the 26th May 2018."
The launch marks the opening of nominations for 11 different categories covering athletes, officials, teams, media and photography. The 12th category which is the People's Choice Award, will be open after the finalists have been announced on April 28.
Nomination is open to all and must reflect achievements of the nominees from 2017. All nominations must have supporting documents to enhance their chances to win.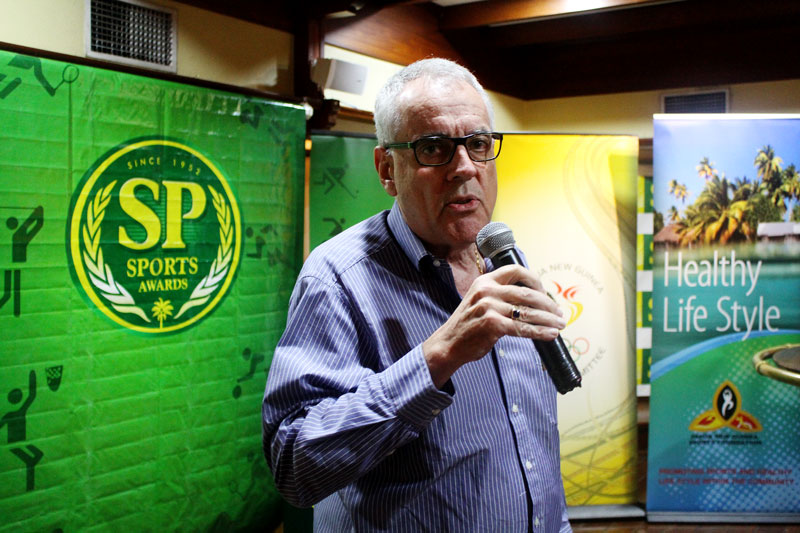 SHOWING SUPPORT: Joyce encouraged everyone to nominate their sports personality of choice for an award. PHOTO: A. Molen/ PNG Olympic Committee.
Closing date for all the nominations is Friday March 16, 2018. Nomination forms can be collected from the PNG Olympic Committee, PNG Sports Foundation, SP Brewery offices and all CPL outlets nationwide. Completed forms can be dropped into specially marked boxes at these locations. DOWNLOAD NOMINATION FORM HERE
The nominations can also be sent to the PNG Olympic on the following address;
PNG Olympic Committee Inc.
P.O Box 467
Boroko
NCD 111
The public is encouraged to participate in the nominations and show their support. They will also have another opportunity to participate when the People's Choice Award is category is open.
The theme of this year's SP Sports Awards is "Together We Can".

DOWNLOAD NOMINATION FORM HERE