Home › News › Four sporting legends inducted to Sports Hall of Fame
---
Four sporting legends inducted to Sports Hall of Fame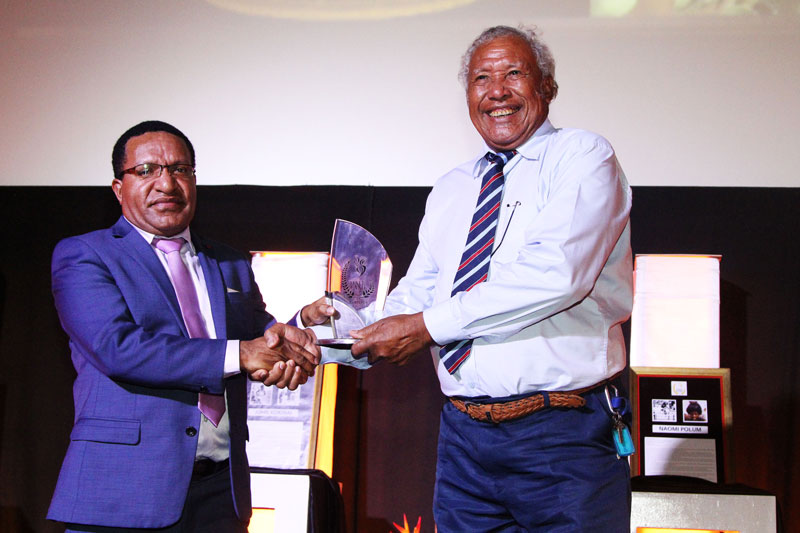 HONOURABLE RECOGNITION: Raki Leka recieves his Hall of Fame commemorative award from PNG Vice Minister for Sports, Wesley Raminai. PHOTO: A. Molen/ PNGOC.
Raki Leka, Naomi Polum, John Kokinai and Oe Ivaharia were inducted into the Papua New Guinea Sports Hall of Fame tonight in Port Moresby.
The four who hail from different disciplines in the sport of athletics were given the honour for their achievements and contribution to sports in Papua New Guinea.
They were dominant figures in Papua New Guinea and the Pacific region in the 1960s to the 1970s era and graced the sporting arena with their brilliance.
Sadly, Kokinai and Ivaharia have passed on but were represented at the induction ceremony by family members who shared insights on their lives and career.
Kokinai, from the Autonomous Region of Bougainville competed in long distance track events while Ivaharia from the Gulf province, still holds the PNG national record in javelin.
All-rounder, Raki Leka was a multi-talented athlete who participated in a number of events but specialized in the Decathlon.
The only woman in the group, Naomi Polum was a sprint sensation on the track whose name still echoes in the athletics circles in PNG and the Pacific region. Following her retirement, she continued to be part of the sport as a coach and administrator.
President of the PNG Olympic Committee, Sir John Dawanincura said while they excelled on the sporting arena, their triumph was a national victory that inspired a growing nation.
"The Papua New Guinea Sports Hall of Fame recognizes and honours these champions and the part they played in our country's history," he said.
"Their contribution to this country through their sporting achievements deserve a lifetime recognition which shall echo their legacy for generations," Sir John said.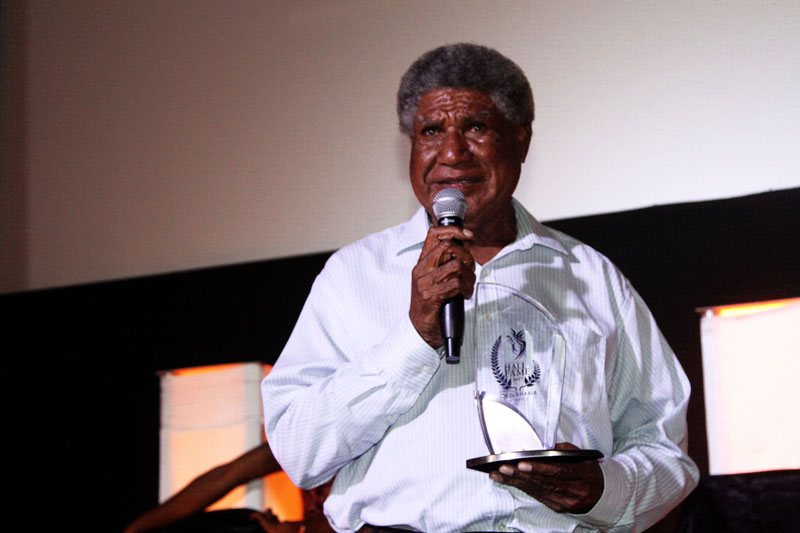 PROUD FAMILY TIES: Ben Memafu represented his brother, Oe Ivaharia to receive his Hall of Fame honours. PHOTO: A. Molen/ PNGOC.
PNG's Vice Minister for Sports, Wesley Raminai said sports plays an important role in the development of the country through the achievements of elite athletes.
It played a very important role in the early '60s and '70s when PNG was not yet an independent nation.
"In a time when our nation was still finding its way through colonial governance, our athletes stood up and through their achievements united our people.
"They did not have the kind of facilities, technicalities and the expertise that we have now but they had the passion and the self-belief to achieve their dreams.
"It is from such passion and patriotism that the government continues to see sport as an essential tool for development," Raminai said.
He congratulated the inductees saying that they are an inspiration to the country and to the many generations that will hear their tales and aim for their own goals.
Leka, Polum, Kokinai and Ivaharia join other PNG Sports Hall of Famers, Sir John Kaputin, Edward Laboran, Nigel Cluer, Jackson and David Seeto, Salitia Pipit and Tumat Sogolik as sporting immortals.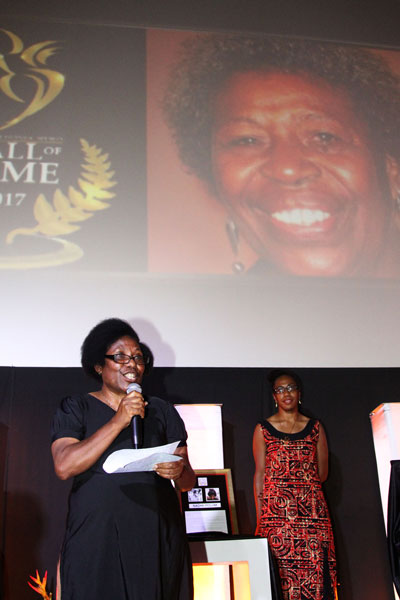 MESSAGE OF GRATITUDE AND THANKS: Sophia Marai sharing inductee, Naomi Polum's message after the receiving the honours on her behalf. PHOTO: A. Molen/ PNGOC.