Home › News › Fun Run shirts up for auctions in Lae and Port Moresby
---
Fun Run shirts up for auctions in Lae and Port Moresby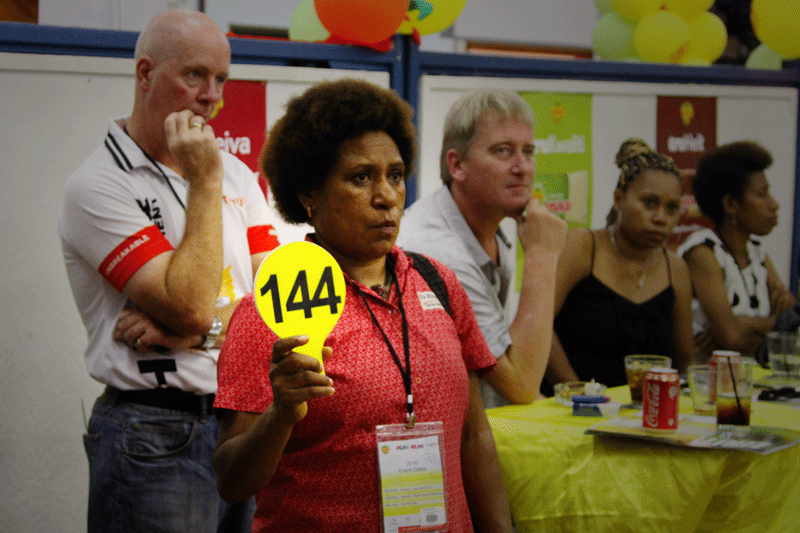 BID: The corporate commuity is invited to be part of the Truka Fun Run T-shirt auction in Lae and Port Moresby on March 8 and 9 respectively. FILE PHOTO: A. Molen/ PNGOC.
100,000 Trukai Fun Run shirts will go under the hammer in Lae and Port Moresby on March 8 and 9 respectively with the Papua New Guinea Olympic Committee aiming to sell as many shirts as it can to raise funds for Team PNG.
PNGOC with the support of major sponsors of the Fun Run, Trukai Industries, will be holding the auctions at the Lae Yacht Club and the Royal Papua Yacht Club.
The Fun Run auction is a great opportunity for organizations to secure advertising opportunities by purchasing shirts to put their branding on it. Those who wish to purchase shirts at the auction can contact the PNG Olympic Committee on 323 0114 or 325 1449 or email events@pngoc.org.pg .
With 16 centres participating in the Trukai Fun Run in 2016 and over 50,000 people turning up for it in Port Moresby alone, it is an opportunity that should not be missed.
Shirts bought at the auction can be donated to a school or institution of the bidder's choice after putting their branding on it.
The Fun Run is PNGOC's largest fundraising event that not only raises much needed funds for Team PNG but also assists schools and institutions with additional funds for their projects while providing sponsors with advertising opportunities nationwide.
"The growing interest in the Fun Run nationwide gives us confidence in the support of the people as well as our partners and I am appealing for them to join us at the auctions this week in Lae and Port Moresby," said the Secretary General of PNGOC, Auvita Rapilla.
"The PNG Olympic Committee greatly relies on funds raised through the sale of Trukai Fun Run shirts to support our Team PNG athletes competing at the Pacific, Commonwealth and the Olympic Games," she said.
Funds raised this year will go toward sending Team PNG to the Pacific Mini Games in Port Vila, Vanuatu and also help prepare for the Commonwealth Games in Gold Coast in 2018.
Rapilla thanked Trukai Industries for sponsoring the shirts for the Fun Run this year and also for their partnership of the event over the last 17 years.