Home › News › Kimbu Associates presents Fun Run shirts to soldiers
---
Kimbu Associates presents Fun Run shirts to soldiers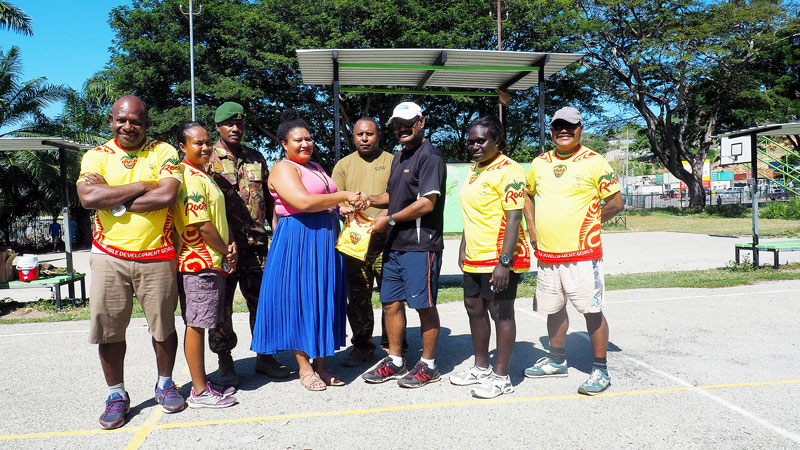 SET FOR THE FUN RUN: Nancy Hoi (centre) presenting the shirts to Major Lange at Murray Barracks today. PHOTO: A. Molen/ PNG Olympic Committee.
Members of the Papua New Guinea Defence Force at Murray Barracks are looking forward to being part of the Trukai Fun Run on 24 after receiving their shirts from Kimbu Associates today in Port Moresby.
The presentation was made by representative of Kimbu Associates, Stacey Hoi to Major Harris Lange at Murray Barracks.
Hoi said Kimbu Associates are happy to support Team PNG and the PNG Olympic Committee through the purchase of the shirts, and also provide PNGDF personnel the opportunity to be part of the nationwide event.
"The Trukai Fun Run is also a great family event for the community and we look forward to seeing everyone there on the day," Hoi said.
Major Lange thanked Kimbu Associates for sponsoring the shirts and extended his thanks to the PNG Olympic Committee and Trukai Industries.
"On behalf of the Commander PNGDF and Chief of Staff, I thank Kimbu Associates for the shirts. We will be there on June 24 to join in the fun run with everyone," he said.
Kimbu Associates presented 100 T-shits which they purchased during the t-shirt auctions in Port Moresby in March this year.