---
Kumul Petroleum Holdings gets behind Team PNG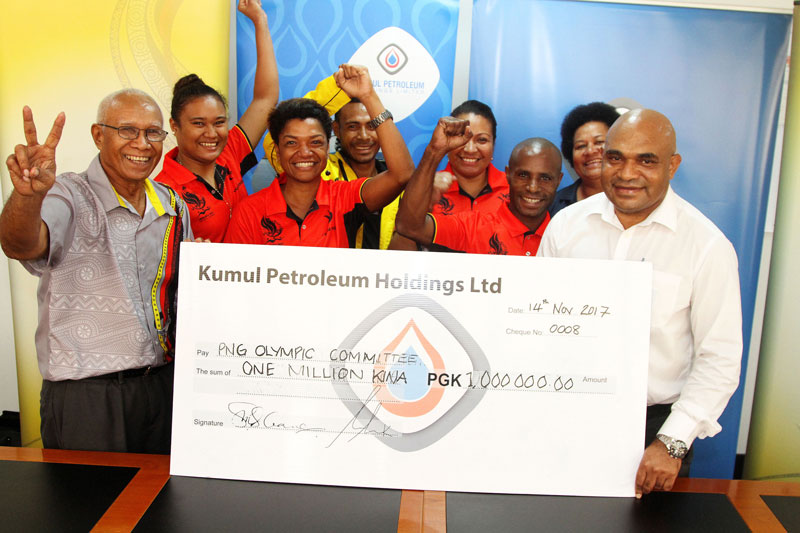 A MILLION REASONS TO SMILE: Sir John (left) and KPHL Managing Director, Wapu Sonk display the new sponsorship for Team PNG with athletes showing their gladness. PHOTO: A. Molen/ PNGOC.
Kumul Petroleum Holdings has put its support behind Team PNG with funding support for athletes to the upcoming Games this year and next.
The support is valued at K1 million with K500,000 going to Team PNG for the Pacific Mini Games and the other K500,000 is committed to Team PNG's Gold Coast Commonwealth Games campaign next year.
President of the Papua New Guinea Olympic Committee, Sir John Dawanincura thanked Kumul Petroleum for the support and welcomed them onboard as part of their family of corporate sponsors.
He said with 19 days to go before the Opening Ceremony, the support is timely for Team PNG and the PNG Olympic Committee as they are preparing for the Pacific Mini Games in December and the Commonwealth Games in April, 2018.
The sponsorship from Kumul Petroleum Holdings means that Team PNG athletes and officials selected for the Pacific Mini Games will no longer be required to pay the levy fee that was imposed on them earlier. The levy was imposed to contribute to the costs of sending Team PNG to the Games.
"Kumul Petroleum's support for Team PNG to the Pacific Mini Games and for the PNG Olympic Committee is indeed timely and a great boost for Team PNG especially, during this tough economic times," Sir John said.
"The PNG Olympic Committee sets a high standard in the way we conduct our business, and I am confident that with the support of Kumul Petroleum, we can be able to achieve our goals through a positive and complimenting partnership.
"We look forward to a strong and fruitful working relationship with Kumul Petroleum," he said.
The sponsorship puts Kumul Petroleum as a Platinum sponsor of the PNG Olympic Committee giving them full partnership rights under their agreement.
"Kumul Petroleum Holdings Limited's vision is to create value and opportunity for PNG and its people by becoming a major national oil and gas corporation. To that end, we see that the opportunity to support PNGOC goes a long way to meaningfully contribute to the pool of talent PNG will be exposing in these two international events.
Team PNG inspires our nation and our country and we are proud to be associated with them as they continue to fly the Kumul flag on the world stage," Managing Director of Kumul Petroleum Holdings, Wapu Sonk said.
The two organisations signed the sponsorship agreement today at a ceremony at the Kumul Petroleum office in Port Moresby.
On hand to witness the event were Chef de Missions to Gold Coast and Vanuatu, Tamzin Wardley and Emma Waiwai with grateful athletes who will be part of Team PNG to the Vanuatu Games.
With a team size of just under 150, the PNGOC has had to raise K1.5 million to cover all the costs to see Team PNG to Vanuatu. Team PNG hopes to defend the first-place finish it reached on the medal table at the last Pacific Mini Games in 2013.
Kumul Petroleum's sponsorship is for one year with a review at the end of 2018.