Home › News › Muri shares life experience with Mendi students
---
Muri shares life experience with Mendi students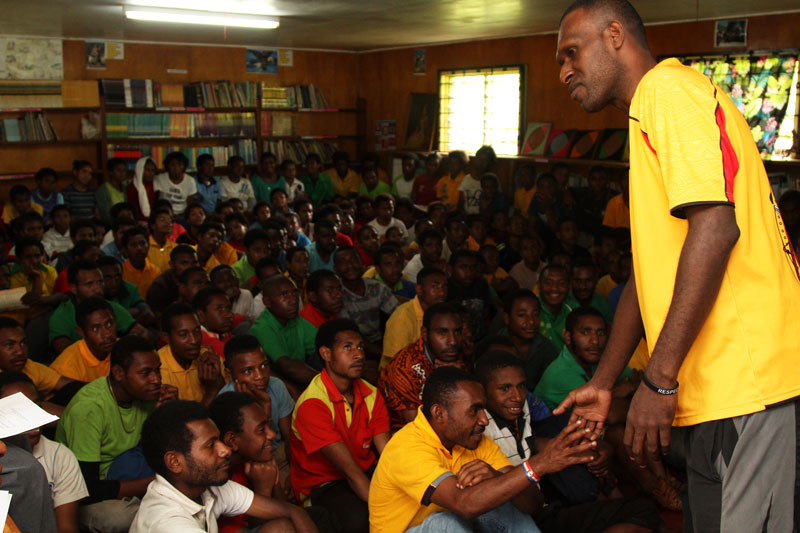 FRIENDSHIP: Through the sharing of his experience and knowledge, Muri was able to connect with the students at Kumin Primary School in Mendi. PHOTO: A. Molen/PNGOC.
It was a moment of inspiration for the students of the Kumin Primary School in Mendi when three Team PNG athletes visited them today as part of the Olympic Values Education Programme.
Papua New Guinea male basketballer, Dia Muri connected immediately with the students who were very eager to hear about his personal experience and the programme.
During his presentation, Muri shared his life experience as a young man growing up in Port Moresby before becoming one of the country's best basketball players.
"I did not come from a rich family or have a big job.
"I did not even play basketball or sports when I was in school, I did my own thing.
"I followed my friends who led me into bad habits and I was expelled from school," Muri said.
"It was sports that saved me and through these values, I came to realise the good things I can do to better myself and also help others around me in my sport and my community," he told the students.
Senior teacher, Mr. Emil was fascinated by the athletes' presentations and how the students were captured by it.
"We've never had a programme like this run here before and we really appreciate the message that is being given through the presentations," he said.
Mr. Emil was also pleased to see the programme being delivered by PNG's international athletes to the students.
"Your presence is quite an inspiration for the young people who get to hear directly from you and how you use this information in your own sporting career and life," he said.
Muri was impressed with the response from the students who actively participated in the discussions and activities and wanted to share his personal experience as an example and motivation for them.
"I hope my personal experience can be an inspiration for them, that no matter where they come from or what kind of life they live, the important thing is for them to embrace these Olympic Values, remain positive and do their very best to achieve the best results in whatever they do," he said.
The athletes also participated in a fun basketball match with the students and shared some knowledge about proper techniques and skills.
They encouraged the students to stay in school and try to apply the values in their respective sports as well as in other aspects of their lives.
OVEP Programme Coordinator, Shareena Tanabi was pleased with the reception from the Kumin Primary school students and thanked the teachers for the support.
"We enjoyed the visit to Kumin Primary School today and had a lot of fun with the students and teachers.
"We came here to share with them the importance of the Olympic Values and we were also able to demonstrate that through these fun activities," Tanabi said.
The team also had the opportunity to talk to students from the Mendi School of nursing which was another interesting session.
"It was great to meet these college students who were just as interested and welcoming to hear from us," said Karate athlete, Andrew Molen.
"It was another fun and interactive session where we were again able to share about the values as well as our own personal experiences," he said.
Many students wanted to learn more about the athletes and skills from their respective sports while some were interested to hear about their experiences.
The athletes will have a final session tomorrow morning at the town's basketball court where they will be conducting a basketball clinic with the town's local athletes.