---
North Mendi students take on Olympic Values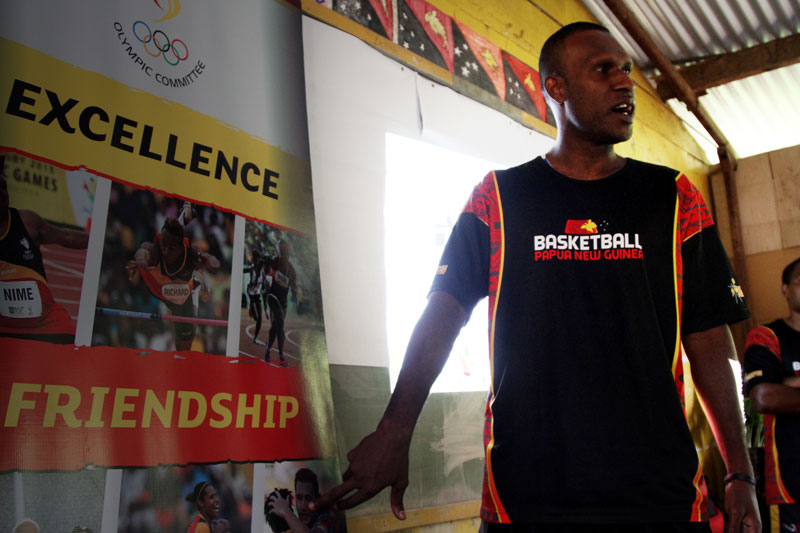 IMPORANT VALUES: Basketballer, Dia Muri outlining the Olympic Values at North Mendi Primary School. PHOTO: A. Molen/ PNGOC.
Students from the North Mendi primary school were very eager to hear about the Olympic Values and were already lined up at the basketball court when the OVEP team from the PNG Olympic Committee arrived.
The team which included 2015 Pacific Games basketballers, Dia Muri and Betty Angula and Karate athlete, Andrew Molen were met by the school's grade seven students and teachers showed much interest to hear from the athletes.
Senior teachers there said the programme was interesting and was refreshing for the students as they took time out from their regular classes.
OVEP Programme Coordinator for PNGOC, Shareena Tanabi was impressed with the reception and thanked the school for inviting them.
"The students were very attentive during the presentation and enjoyed the presentations from the athletes," Tanabi said.
ON THR COURT: Students having fun trying to fomr the Olympic rings. PHOTO: A. Molen/PNGOC.
As part of their programme, the athletes talked to the students about the Olympic Values of Excellence, Respect and Friendship.
They related the values to their lives and how they employed them in their respective sporting careers.
"Sports is not just about trying to score points and winning, it also gives us lessons which we can use in life as well such as in school, home or in whatever we do," said Muri during his talk to the students.
The OVEP team will visit the Kumin Primary School tomorrow where they will make a similar presentation with interactive and fun activities.