Home › News › PNGOC conducts its annual audit of compliance on members
---
PNGOC conducts its annual audit of compliance on members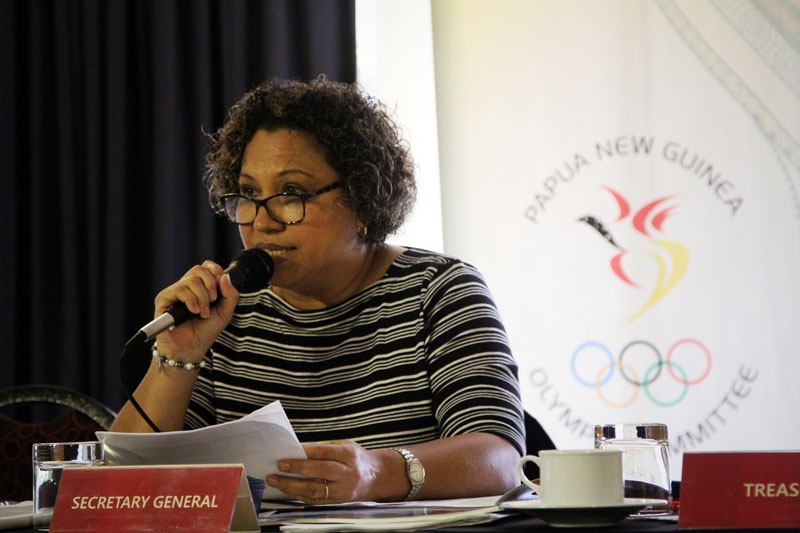 REMINDER: Rapilla reminds all member National Federations to take note of the new requirements and comply before the due date. PHOTO: A. Molen/ PNGOC.
The Papua New Guinea Olympic Committee (PNGOC) is conducting its Annual Audit of Compliance with its Constitutional Requirements by its member National Federations.
In a correspondence on 20th September, 2017, Secretary General, Auvita Rapilla reminded National Federations to comply with Clause 7 (e) "Every Member and Affiliate must provide to PNGOC the Minutes of its Annual General Meeting and a copy of its Annual Report and Financial Statements not later than 6 months after the end of its financial year".
Among the requirements that PNGOC is reminding its member affiliates of, is the new requirement in the PNGOC Constitution which relates to membership to the PNGOC.
The new Constitution was adopted by the Annual General Assembly on 28th May, 2016 and outlines the need for members to be incorporated with the PNG Investment Promotion Authority (IPA). All unincorporated member National Federations at the time were given an 18-month transition period to be incorporated.
Under the new constitution, National Federations who have not incorporated with IPA by the end of the transition period on 28 November, 2017, will become an Affiliate rather than a Member, and will not have voting rights. Those who have registered for incorporation will automatically become members.
Secretary General of PNGOC, Auvita Rapilla reminds all members to observe the new constitution and adhere to the requirements if they wish to become full members with voting rights.
Those who have registered for incorporation must provide a copy of their certificate to PNGOC for recording.
All National Federations are encouraged to contact Rebecca Lahui on 325 1411/ 323 0114/ 325 1449 or 323 0108 for more information.