---
PNGOC presents donation to HB Fire Appeal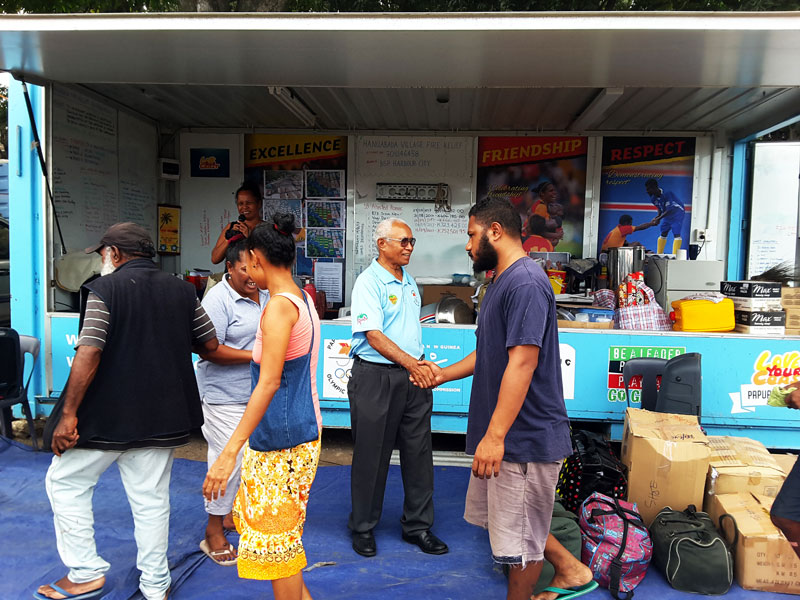 ACT OF KINDNESS: Members of the community meeting and acknowledging the support from PNGOC. PHOTO: A. Molen/ PNGOC.
The Papua New Guinea Olympic Committee today made a presentation of donations to the Hanuabada Fire Appeal in the National Capital District on Thursday this week.
Through its own campaign, 'Giving Is Winning' the PNG Olympic Committee reached out to its members and the sporting fraternity to come forward in solidarity to support the Hanuabada community.
Various items which included clothes and household items were donated by different groups, organisations and families.
President of PNG Olympic Committee, Sir John Dawanincura said the fire in Hanuabada was a great tragedy which saw many families lose their homes and years of memories and family history.
He pointed out that Hanuabada village has produced some of the best athletes in PNG especially, through weightlifting. In the recent Oceania Championships, the weightlifters did extremely well with all getting medals.
"Everywhere we go, I like to promote that Hanuabada village has produced these talented weightlifters," Sir John said.
One of the weightlifters, Toua Udia's house was partly burned while many of the cricket athletes lost their gear in the blaze as well.
"All though we didn't bring much, as the saying goes 'Sharing is caring' and our campaign is 'Giving is Winning.'
"Our athletes and PNGOC staff have given from their heart. We hope that these items can be of help to you as you rebuild your lives and rise again from the ashes," Sir John said.
Team PNG athletes, Nelson Stone (athletics), Tania Mairi (shooting), Jacklyn Lahari and Winnie Mavara (netball), accompanied Sir John to Hanuabada to witness the presentation.
The spokesperson for the Hanuabada Fire Appeal Committee, Lucy Ovia thanked PNGOC and the athletes and welcomed their kind gesture.
"We are grateful for whatever you are able to give and we thank you for your support and kindness," she said.
Mea Hila also added that PNGOC's Olympic Values Education station that was given for use by the HB Appeal Committee earlier for their work, has been a great help.
"The station provides a good working place for us. Without it we would be working under trees and tents and at the mercy of the weather," she said.
Sir John thanked those who responded to the PNG Olympic Committee's 'Giving Is Winning' campaign saying that it reflects the good spirit of kindness and concern that people have for their fellow countrymen and women.
18 houses were razed by fire on August 20 leaving 200 people affected with many living in makeshift shelters.