---
PNGOC thanks Lae for Fun Run support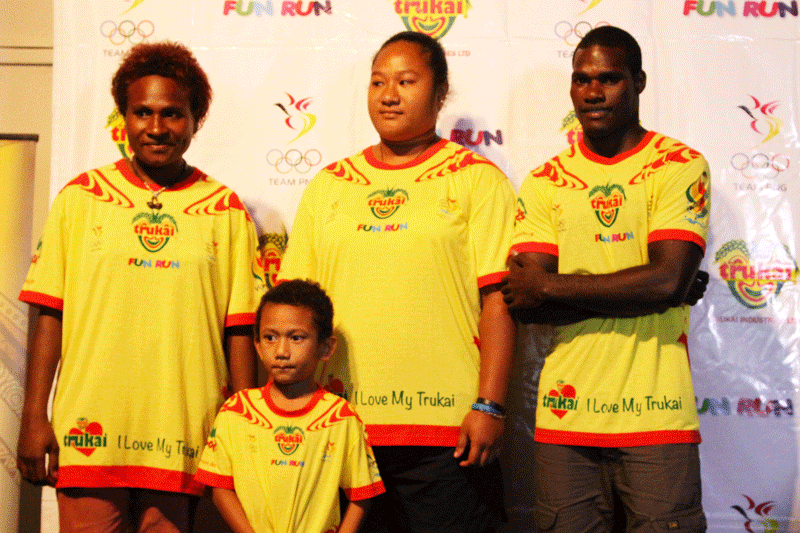 MODELS: PNG athletes and a boy display the 2017 Trukai Fun Run shirts that were auctioned. PHOTO: A. Molen/ PNGOC.
Secretary General of the Papua New Guinea Olympic Committee, Auvita Rapilla has thanked the corporate community in Lae city for their support of the Trukai Fun Run last night at the Lae Yacht Club.
Members of the corporate sector and others present witnessed the largest ever purchasing Trukai Fun Run T-Shirts for Lae with 21,405 shirts sold for K214,050.
A further K3,500 was raised from the sale of a framed official North Queensland Cowboys NRL jersey.
"By buying these t-shirts, you are giving our athletes the opportunity to be the best that they can be and make us proud as a nation.
"You are also helping many schools and institutions around the country get extra funds for their various projects and enable more people to be a part of this nationwide event," Rapilla said.
She acknowledged Lae's top five bidders for the night; Ramu Agri Industries, Traisa, Trukai Industries Ltd, Seeto Kui and Papindo for taking the lead and appealed to others to make use of the opportunity as well.
Major sponsor of the Fun Run, Trukai Industries sponsored PNGOC with 100,000 shirts for this year's event with 78,595 left following the Lae auction.
After the success of the Truka Fun Run auction inLae, Port Moresby will get a chance to outdo Lae at the Port Moresby auction tonight starting at 5:30pm at the Royal Papua Yacht Club.
Funds raised from the sale of the shirts will go towards Team PNG's preparation and participation at the 2017 Pacific Mini Games in Port Vila and the 2018 Commonwealth Games in Gold Coast.
Shirts bought and donated to schools can be resold by the school at a price not more than K10, and kept by the school for their respective projects.
Those wishing to purchase shirts after the auctions or to get more information about the Trukai Fun and the opportunities available can contact the PNGOC on 323 0114, 325 1449, 325 1411 or email events@pngoc.org.pg .