---
Port Moresby Trukai Fun Run a success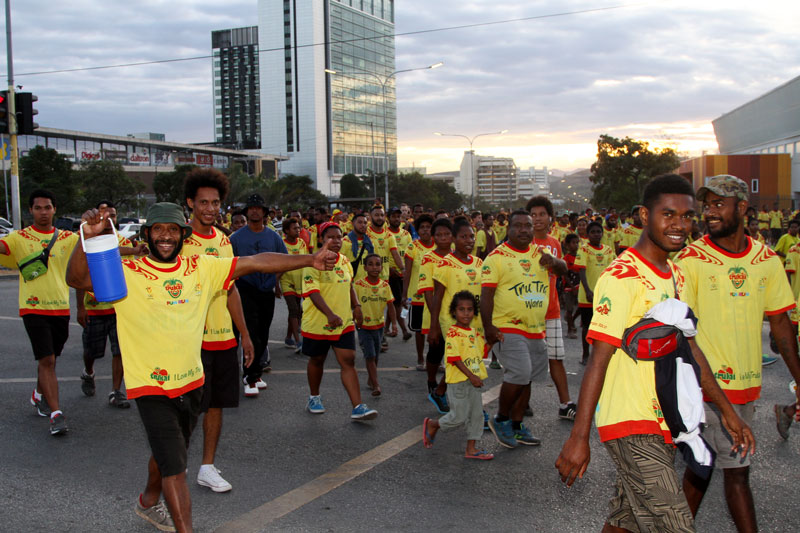 FUN RUN: Participants of this year's Trukai Fun Run enjoying their walk in the event on Sunday. PHOTO: A. Molen/ PNGOC.
President of the Papua New Guinea Olympic Committee, Sir John Dawanincura has praised Trukai Industries for making this year's Trukai Fun Run event possible.
He also acknowledged the support Air Niugini, IBS University and National Capital District Commission as well as other key partners of Team PNG in 2017.
He thanked Trukai Industries for sponsoring 100,000 shirts for the Fun Run this year and acknowledged the organisations that purchased shirts at the auctions in Lae and Port Moresby.
"We are extremely grateful for the support of Trukai Industries who have been backing the Fun Run over the last 18 years. Their assistance has helped us to raise much needed funds for Team PNG to participate in numerous international sporting events," he said.
"We also thank Air Niugini and IBS University who have encouraged more people to be a part of the event by giving opportunities to Papua New Guineans through their programmes and special offers as part of their support for the Fun Run."
Sir John said the Trukai Fun Run needs the support of the corporate community, and that the PNGOC was elated with their response this year especially, for the highly successful Fun Run T-shirt auctions.
Governor General of Papua New Guinea, Bob Dadae who joined in the Fun Run was pleased to see a large number of people turning up to support Team PNG and be part of the healthy activity.
"I believe in the good health of our people and activities such as this encourage a positive lifestyle," he said.
"The Fun Run does more than just bringing us together for a walk or a run. It unites us for a common cause.
This cause is to support our elite athletes – the young men and women who have sacrificed their time and a lot more to represent Papua New Guinea on the world stage," Dadae said.
This year Team PNG will be attending three events, Commonwealth Youth Games in Bahamas, the Asian Indoor & Martial Arts Games in Ashgabat, Turkmenistan; and the Pacific Mini Games in Port Villa, Vanuatu.
Funds raised from the sale of the Trukai Fun Run will assist in the preparation and participation of Team at these events.
The Trukai Fun Run this year saw 10 centres nationwide taking part with all centres including Port Moresby and Lae completing their activities last weekend except for Mt Hagen which will host theirs this Sunday, June 18.
The event held in Port Moresby last Sunday was a huge success with more than 30,000 city residents turning up for the event which started at 6:30am.
The Trukai Fun Run is a major annual fundraising event for the Papua New Guinea Olympic Committee which raises much needed funds for Team PNG athletes to participate at various international sporting events.
Participants also had the opportunity to see and listen to North Queensland Cowboys duo, Brent Tate and Matt Scott answering questions about rugby league and their Trukai rice experience.
They said it was a pleasure to be part of Team Trukai to support this worthy event which Trukai Industries Limited (TIL) has been sponsoring and running for the last 18 years.
Trukai Industries General Manager Sales and Marketing, Andrew Daubney said as a responsible corporate citizen, they look forward to bigger and better fun run activities to support PNG athletes to be able to continue to fly the PNG flag with pride at international sporting events.
Trukai Industries and PNG Olympic Committee have expressed gratitude towards city residents, stakeholders, business houses, volunteers as well as others who ensured a safe and enjoyable 2017 Fun Run.