Home › News › Ryan Pini: SDG Champion for Goal 3 - Good Health and Well-Being
---
Ryan Pini: SDG Champion for Goal 3 - Good Health and Well-Being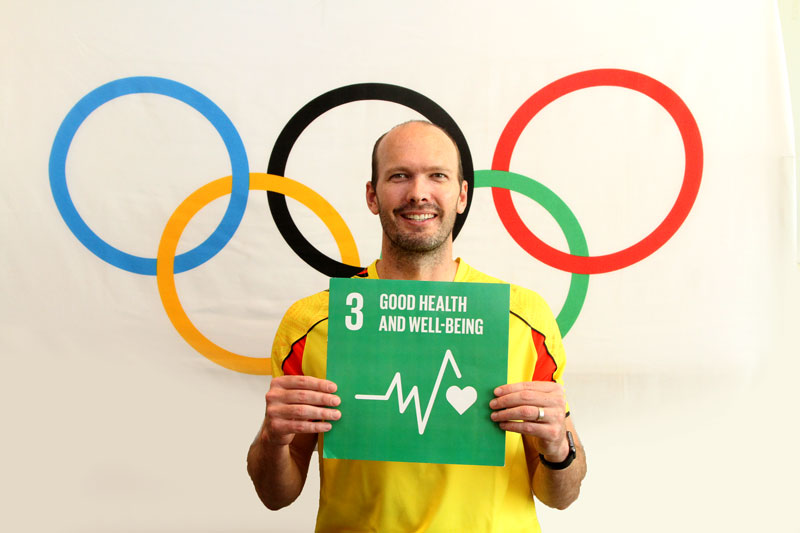 HEALTHY LIVING: Ryan is the SDG Champion for Goal 3: Good Health and Well-Being. PHOTO: A. Molen/ PNGOC.
The United Nations in Papua New Guinea and the PNG Olympic Committee have appointed five Team PNG Athletes as Champions for the SDGs. Here is the story of Ryan Pini, a prominent athlete in swimming and Champion for the SDGs.
Ryan Pini: Goal 3 Good Health and Well-Being
A fervent believer that the Sustainable Development Goals (SDGs) are important for everyone, the nationally renowned swimmer, Ryan Pini accepted the challenge of changing people's regard for their health and well-being by becoming a Champion for Goal 3: Good Health and Well-Being.
Ryan believes that there are many ways that people can promote health in their community, starting with simple tasks such as eating a balanced diet and exercising regularly. Acknowledging challenges within the health sector and many people's lack of awareness about their health, he hopes to inspire and encourage change.
Ryan strives to ensure that as many people as possible are aware of the importance of health, and the SDGs as a whole. Focusing on the promotion of education, particularly for disease prevention and the importance of testing and treatment, Ryan plans to involve individuals, as well as the private sector, to promote Goal 3.
"Sport, an activity that promotes health and fitness, has always been an important and influential part of my life. I believe that I may have taken my health and continued ability to partake in sports for granted over my lifetime. I have seen a number of family members and friends pass away from preventable causes. Now, as the father of a young son, I am increasingly aware of the significant health needs of all people, especially of children under the age of five years. I hope to use my sporting background to encourage all people, everywhere, to put health at the forefront of their priorities and to maintain their health."
Find out more about SDG Goal 3 and how PNG is supporting the SDGs:
http://www.pg.undp.org/content/papua_new_guinea/en/home/sustainable-development-goals.html