---
Sir John receives ANOC award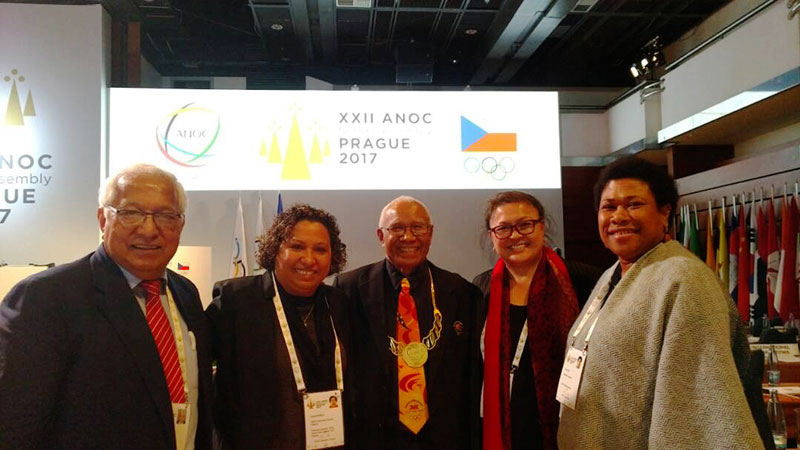 CONGRATULATIONS: Sir John (centre) being congratulated by (L-R), President of Oceania National Olympic Committee (ONOC) Dr. Robin Mitchell, Auvita Rapilla, PNGOC Senior Vice President, Mel Donald and Karo Lelai.
PRAGUE: President of the Papua New Guinea Olympic Committee, Sir John Dawanincura has been honoured by the Association of National Olympic Committees (ANOC) with the Merit Award.
The award was presented to Sir John on November 2, 2017 during ANOC's XXII Annual General Assembly in Prague, Austria.
The ANOC Award which recognizes outstanding service to sport and the Olympic Movement, was presented by President of the International Olympic Committee (IOC), Thomas Back and ANOC President, Sheikh Ahmad Al-Fahad Al-Sabah.
Sir John has been involved with the sports movement in PNG for 45 years, 30 of those has been with the PNG Olympic Committee when it used to be known as the PNG Sports Federation & National Olympic Committee.
He is also the longest serving Secretary General of PNGOC having held the position from 1984 to 2010, a total of 26 years. His current role as President was obtained in 2012.
Sir John has also served on ANOC being a Member of the Executive Board of ANOC (1993 – 1997 and 2001 - 2005) and Member of ANOC Marketing and New Source of Finance Commission (2015 - current).
Other international positions he has held include;
President of the PNG Weightlifting Federation (2011 - current)
Vice President of Commonwealth Weightlifting Federation (2014 - current)
President of Pacific Games Council (1995 - 1999)
Vice President of Oceania National Olympic Committee [ONOC] (1993 – 1997 and 2001 – 2005)
Member of SPGC Constitutional Review Committee (1997 – 2009)
Executive Board member of ONOC (1984 – 2005)
PNG Delegate to South Pacific Games Council [SPGC] (1984 – 2010)
Chairman of ONOC Development Commission (1993 – 1997)
Sir John thanked ANOC for the recognition saying that sports has been a lifelong passion for him which he is proud to have shared with many people around the world.
He expressed his thanks to the Board, Management and staff of the PNG Olympic Committee for their tireless efforts in the Movement, and acknowledged sponsors and partners who continue to make their goals possible.
Sir John also mentioned the important role of PNGOC's Member National Federations who are the driving force for Team PNG.
"Athletes are the centre of our work and they will always be our focus as we continue to strive for the best on the world stage," said Sir John.
Secretary General of PNGOC, Auvita Rapilla congratulated Sir John on the award saying it was a great achievement both for him and PNGOC.
Fellow PNGOC Board Members, Mel Donald and Karo Lelai were also on hand to celebrate the Award with Sir John in Prague.
The Annual General Assembly draws representatives from 206 National Olympic Committees from around the world as well as representatives from International Federations and Organizing Committees. Over 1,300 representatives were present at the 2017 ANOC Annual General Assembly.