---
T-shirt sales reveals support for Team PNG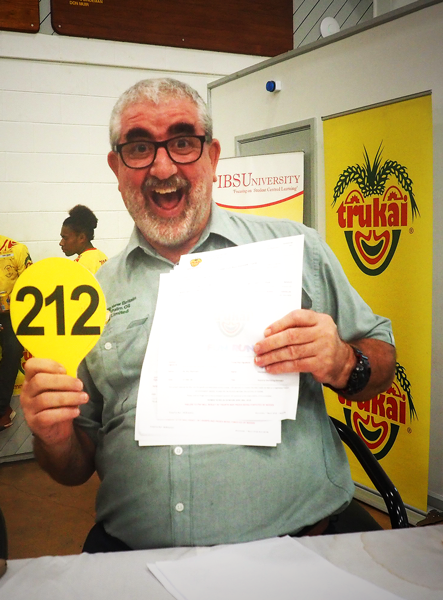 ALL GOOD: A bidder in Lae looking happy with his purchase. PHOTO: PNGOC.
The Papua New Guinea Olympic Committee is grateful to the business community in Lae for their continuous support to attend and buy t-shirts for the Trukai Fun Run.
This year they had the opportunity to purchase the 2018 Trukai Fun Run t-shirts on Wednesday this week during the Trukai Fun Run auctions held at the Lae Yacht Club.
17000 shirts were sold in Lae for K170, 000.00 Organisations in Port Moresby will have the opportunity to purchase the shirts during the auctions at the Royal Papua Yacht Club on Thursday 8 March.
A further K5300.00 was raised from the sale of a signed SP Hunters Jersey for K2800.00 and a signed Cowboys Jersey which went for K2, 500.00. They were bought by Traisa and Territory Packing Ltd respectively.
President of the PNG Olympic Committee, Sir John Dawanincura said the business community in Lae has always been a great supporter of the Fun Run and this year was no different. He said such generous support makes it possible to send PNG's elite athletes to international sporting events.
"I would like to thank the top five bidders for Lae; Traisa, Trukai Industries Ltd, Papindo, Raumai 18, and Ramu Agri Industries Ltd for your support," he said.
Traisa bought 2, 400 shirts (K24, 000.00), Trukai Industries Ltd, 2, 200 shirts (K22, 000.00), Papindo, 1, 900 shirts (K19, 000.00) and Raumai 18 bought 1, 500 (K15, 000.00) while Ramu Agri Industries Ltd bought 1, 400 shirts for K14, 000.00.
Sir John also acknowledged the other bidders who attended the Lae auction and invited them to participate at the Fun Run on June 26.
The bought t-shirts will be donated to schools and charities in the communities which can be sold at a price not more than K10. Money from this is kept by the institutions for their projects.
Funds raised from sale of the shirts at auctions go towards assisting Team PNG participate at the Commonwealth Games in Gold Coast, Australia, next month.
Sir John said the contribution by the corporate sector in previous years has been instrumental in paving the way for strong performances by Team PNG at elite level competitions.
"The auction results set a wonderful platform for our athletes not just financially but also in terms of showing the emotional support and goodwill from our corporate community towards our campaign," he said.
"PNGOC would like to thank these organisations for their support through the Trukai Fun Run and also for giving the opportunity to people in their communities to be a part of the event", he said.
Trukai Industries Ltd CEO, Greg Worthington- Eyre said both Trukai and the PNGOC are grateful to business houses that continue to support this event for many years.
"Without your support, we would not be able to send Team PNG to these various competitions. "We encourage all business houses to come forward and support their community by buying t-shirts for their local schools."
He said the Trukai Fun Run is a great opportunity for business houses to brand their business and a great way to support the people of PNG and get some recognition in the process.
Following the first auction in Lae, the Port Moresby auction will be held on Thursday 8th March at the Royal Papua Yacht Club.
The top five bidders for this year will be rewarded with return airline tickets to Sydney, Brisbane, Singapore, Hong Kong and Cairns courtesy of Air Niugini.
The auctions are held every year by Trukai Industries and PNGOC to provide members of the business community and the government sector the opportunity to purchase Fun Run shirts for different schools and institutions in their community.
Successful bidders can put their logo on the shirts before distributing them to the schools or institutions which they purchased the shirts for.
"We encourage everyone to buy a Trukai Fun Run t-shirt and support Team PNG to the Commonwealth Games in Australia in April," said Sir John.
Shirts not sold through the auctions will remain available for purchase. For more information on the auction for Port Moresby and how to buy shirts please contact the PNG Olympic Committee on 323 0114, 325 1411 or e-mail events@pngoc.org.pg . Interested parties can also contact Trukai Industries Ltd on 321 3530 or e-mail events@trukai.com.pg .