Home › News › Team PNG appeals for support to HB fire victims
---
Team PNG appeals for support to HB fire victims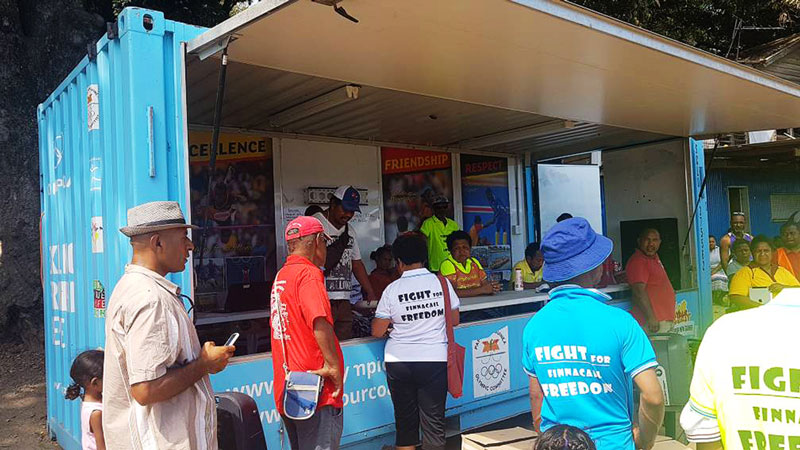 MAIN LOCATION: Members of the Hanuabada commuity gather around the portable Education station which was provided by PNG Olympic Committee for the Hanuabada Fire appeal to use for their administration work. PHOTO: Courtesy of Lohia Samuel.
The Papua New Guinea Olympic Committee is running a donation drive to help victims of the Hanuabada fires that gutted more than 15 homes earlier this week.
Hanuabada village has produced many great Team PNG athletes and officials for Papua New Guinea and the fiery tragedy which destroyed many valuable properties and belongings presented an opportunity for Team PNG to repay their efforts and show its support for the big village.
"PNG Olympic Committee is appealing to fellow Team PNG members and the PNG sports community to contribute to the Team PNG 'Giving Is Winning' donation drive for the Hanuabada fire victims," said President of PNG Olympic Committee, Sir John Dawanincura.
"Many families have been devastated with the loss of their homes, lifetimes of memories and family history, that can never be replaced.
"This is a very unfortunate incident and will greatly affect the lives of the victims and we hope that whatever support we receive for them can help them rebuild a little part of their lives," he said.
With the help of Theodist Ltd, PNG Olympic Committee has already provided its Olympic Values Education station to be used by the Hanuabada Fire Appeal Committee as an administration centre to coordinate the appeal effort in the village.
Donations can be dropped off at the PNG Olympic Committee office at Telikom compound, 4-Mile. For more information contact the office on 323 0114, 325 1411 or 325 1449. Donations will be recorded and collected before being taken to Hanuabada and presented to the Hanuabada Fire Appeal Committee.