Home › News › The National presents shirts for PM's Corporate Golf Challenge
---
The National presents shirts for PM's Corporate Golf Challenge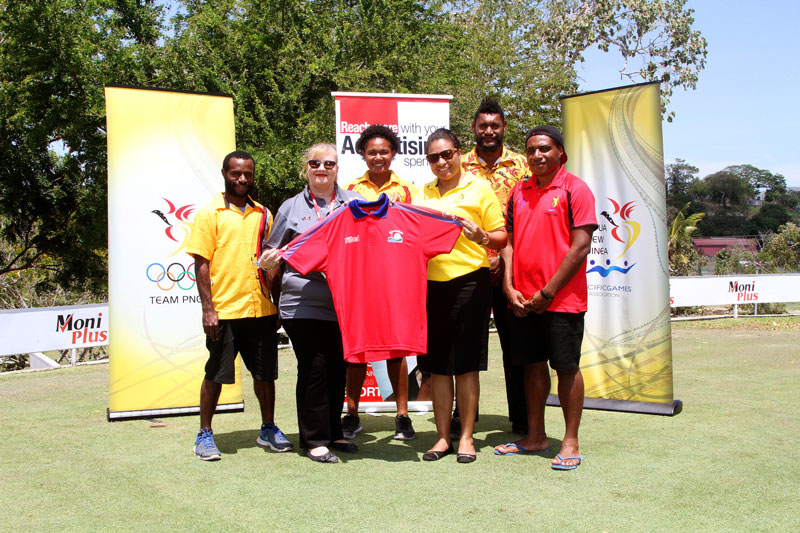 TEAM SUPPORT: Sales & Marketing Manager of The National, Veronica Marshall (left) displaying the shirt with PNGOC's Commercial Manager, Tania Mahuru. With are are team PNG athletes (L-R); Cosmas Saliawali (Karate), Zoe Awadu (volleyball), Moha Mea (Beach volleyball) and Betty Angula (Basketball). PHOTO: A. Molen/ PNG Olympic Committee.
Shirts for the Prime Minister's Corporate Golf Challenge were presented by The National to the Papua New Guinea Olympic Committee today at the Royal Port Moresby Golf Club.
Sales and Marketing Manager of The National, Veronica Marshall presented the shirts to PNG Olympic Committee's Commercial Manager, Tania Mahuru.
Team PNG athletes, Moha Mea from Beach Volleyball, Zoe Awadu from women's Indoor Volleyball, Betty Angula from women's Basketball and Cosmas Saliawali from Karate were also at the presentation to receive the shirts.
"The National has been a great partner of the PNG Olympic Committee through their support of the Prime Minister's Golf Challenge and we are looking forward to another successful event this year in Port Moresby and Lae," Mahuru said.
The shirts are the official wear for participating teams and will be given to all teams who have completed their registration.
The first Prime Minister's Corporate Golf event for this year will be held in Port Moresby on September 22 with the second one scheduled for Lae on October 6.
All organisations interested to register a team in either events can contact the PNG Olympic Committee on 325 1449, 325 1411 and 323 0114 or email events@pngoc.org.pg .
Many great prizes are on offer for teams with the biggest being a Toyota Hiace mini bus for the Hole-In-One at the 18th hole in Port Moresby and the 8th in Lae. The buses are donated by Ela Motors Toyota, one for each event.
This is an important event for the PNG Olympic Committee because it is the organisation's other largest fundraising event for Team PNG. Co-sponsors of Prime Minister's Corporate Golf Challenge include Ela Motors Toyota, Air Niugini, Coral Sea Hotels, Theodist and Coca Cola.
PNG Olympic Committee is also offering sponsorship opportunities for other organisations who wish to be part of the event.
Like the Trukai Fun Run this year, funds raised from Prime Minister's Corporate Golf Challenge will go towards sending Team PNG to the Pacific Mini Games in Vanuatu this December.