Home › News › Toyota bus up for grabs at PM's Corporate Golf Challenge
---
Toyota bus up for grabs at PM's Corporate Golf Challenge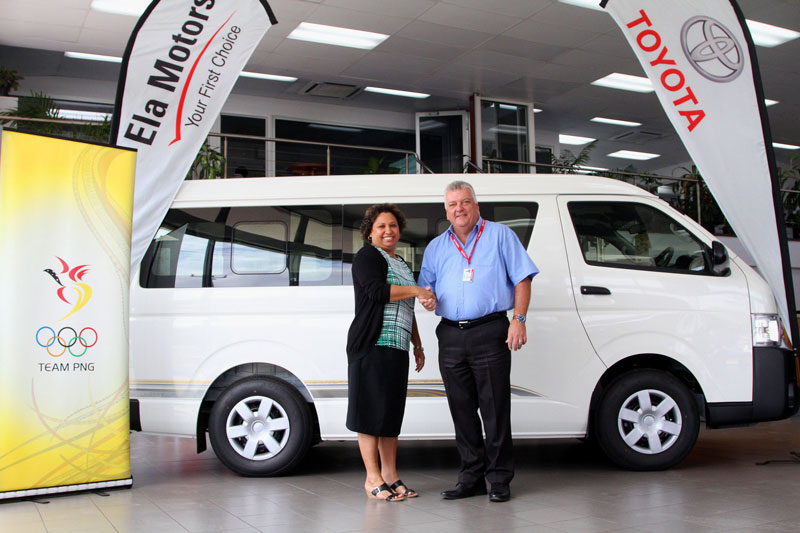 HI-ACE: PNGOC Secretary General Auvita Rapilla (left) with Ela Motors National Sales Manager, Chris Von Oppeln in front of the mini bus that will be on offer as the Hole-In-One prize for golfers in the Prime Minister's Corporate Golf Challenge. PHOTO: A. Molen/ PNGOC.
The first person to hit a Hole-In-One on the 18th hole in Port Moresby and the 8th in Lae in this year's Prime Minister's Corporate Golf Challenge will drive away with a brand new Toyota Hi-Ace bus courtesy of Ela Motors Toyota.
All players in participating teams will have the opportunity to win the bus in both Port Moresby and Lae. Organisations who wish to register a team for Port Moresby or Lae can contact the Papua New Guinea Olympic Committee on 323 0114, 325 1449 ad 325 1411 or email events@pngoc.org.pg now. Registration costs K3,000 per team.
Ela Motors presented the prize to the PNG Olympic Committee on Wednesday this week in Port Moresby. There will be two mini buses on offer, one for the Port Moresby event on September 22 and the other for Lae on October 6.
"Ela Motors is very proud to be involved in the Prime Minister's Golf event to raise funds for Team PNG, Toyota globally is also involved with the Olympics and we're proud to support the Olympic Movement," said National Sales Manager for Ela Motors, Chris Von Oppeln.
The bus has a retail value of K140,000 and will be a great prize for the golfer who hits a Hole-In-One. Oppeln said it may seem like a bit of a challenge but it can be done.
"A lot of people try too hard and don't get too close but it can be done, I've seen it, so good luck to the lucky players who try to get a Hole-In-One," Oppeln said.
Secretary General of PNG Olympic Committee, Auvita Rapilla thanked Ela Motors for partnering with the PNG Olympic Committee and encouraged corporate organisations to register a team for the opportunity to win the bus and other great prizes.
"This is a great prize and we are elated to have Ela Motors Toyota as a partner in this year's Prime Minister's Corporate Golf Challenge," she said.
Ela Motors joins other co-sponsors of the event which include The National, Air Niugini, Coral Sea Hotels, Theodist and Coca Cola. Rapilla acknowledged the sponsors and welcomed other partners who wish to be part of the event as well.
The Prime Minister's Golf Challenge is one of PNG Olympic Committee's major fundraising events for sending Team PNG to international events. Funds raised from the event this year will go towards sending Team PNG to the Pacific Mini Games in Vanuatu this December.