Home › News › Trukai Fun Run shirts for New Erima Primary School
---
Trukai Fun Run shirts for New Erima Primary School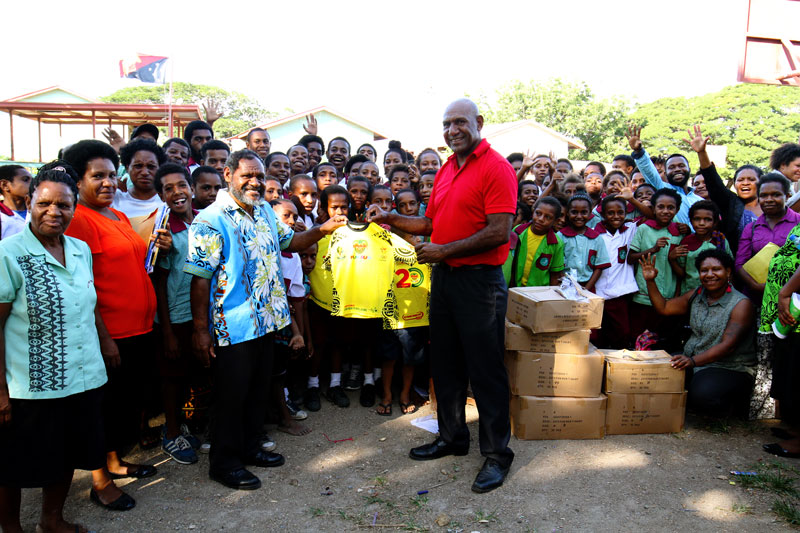 SHIRTS FOR THE SCHOOL: New Erima Primary School Head Teacher, Yalo Kipungi (left) with PNG Olympic Committee Corporate Manager, Ian Leklek show the Fun Run shirts with students and teachers during the presentation this afternoon. PHOTO: A. Molen/ PNG Olympic Committee.
The New Erima Primary School in Erima, Port Moresby was presented 300 Trukai Fun Run T-shirts today courtesy of SNK Development.
The shirts were purchased at the Trukai Fun Run T-shirt auctions in Port Moresby in March this year.
Papua New Guinea Olympic Committee Corporate Manager, Ian Leklek presented the shirts to the school on behalf of SNK Development.
Head teacher of New Erima Primary School, Yalo Kipungi thanked SNK Development for the shirts and also acknowledged the PNG Olympic Committee and Trukai Industries for using the Fun Run to raise funds for Team PNG.
"We are with you in support for the Fun Run and for our team going to the Pacific Games.
"We thank SNK Development for thinking of us and donating these shirts to us," Kipungi said.
The shirts will be sold for not more than K15 at the school and funds raised from that remains with the school for its projects.
Those who wish to participate in the Trukai Fun Run in Port Moresby on June 16 this year can purchase their shirts from the school.
Organisations who wish to purchase t-shirts can contact the PNG Olympic Committee or Trukai Industries for more information.
After purchase, organisations can put their branding on the shirt and resell to their customers.
Funds raised from the purchase goes towards helping Team PNG attend the Pacific Games in Samoa.