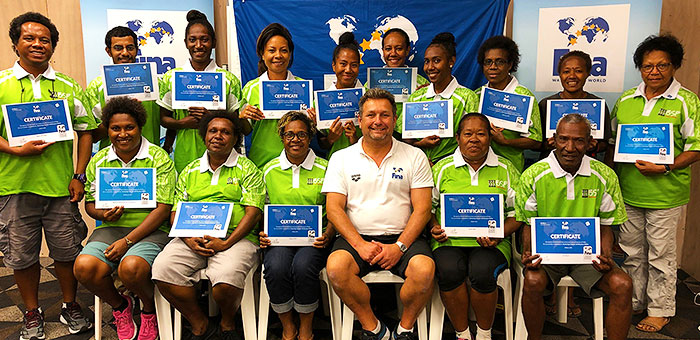 15 complete FINA level 1 coach in Port Moresby
15 people have completed their training in the FINA Coaches Certification Course level one which was held from March 8 to 10 at the Taurama Aquatic Centre in Port Moresby under the hospice of the PNG Swimming Inc.
The course was offered through the FINA (Federation Internationale de Natation) Development Programme and qualifies the participants to be assistant coaches to teams and clubs.
The objective of the course is to establish a universal and standardized coaches training and certification system. This has been developed through collaboration and partnership with Institute of Swimming, to ensure it is fit for purpose for Swimming Coaches and the swimming industry.
Through this programme all participants will have access to up-to-date coaching information and best practices, increasing the number of certified coaches and enhancing the quality of existing ones. The FINA Certification is valid for 4 years.
"It is a great initiative of FINA and will see our PNG Coaches being able to secure a FINA Swim Coach accreditation," said the President of PNGSI, Elizabeth Wells.
The first group of fifteen from PNG are from the Lae Amateur Swimming Club and the Boroko Amateur Swimming Club. They were under the direction of FINA Coach Assessor, John Bladon.
They are: Bassie Akunaii, Shane Akara, Susan Babao, Roslyn Dove, Beatrice Geita, Hellen Joseph, Cathy Kalate, Martine Kirarock, Joseph Meauri, Judith Meauri, Anthea Murray, Haoda Seri, Jean Vava, Albert Vigil and Juanita Vava.
Learning outcomes from the course included the role of a swimming coach, legal aspects, structure of swimming, coaching behaviours, evaluation action and planning, exercise physiology, principles of training (planning and periodisation), swimming skills and technique, session planning and evaluation, plan delivery and evaluation, and roles and responsibilities.
"PNG Swimming is firmly committed to coach education. This is my third visit to PNG, presenting clinics and now the FINA level 1 coaching accreditation.
"PNG coaches are very enthusiastic to learn and become the best coaches they can be. I am sure that a number of them will progress and take their level 2 accreditation. The coaches and swimmers are lucky to have a federation that supports their education," Bladon said.
FINA strongly believes in the importance of having a globally-respected workforce of coaches and technical officials with an established and consistent curriculum as a key factor for the athlete development.
The organisation is currently running clinics to train coaches and technical Officials in each of the aquatic disciplines. This training programme is led by highly experienced coaches and FINA Officials appointed by FINA. It is designed to train coaches and educate Technical officials around the world and promote best practices. This allows affiliated national federations the opportunity to successfully develop aquatic sports in their countries.
The next FINA clinic which will be held in PNG is going to be a Technical Officials Clinic. This will be held prior to the TNT National Short Course Championships in Lae from September 27 to 29, 2019.
[ Back to News ]