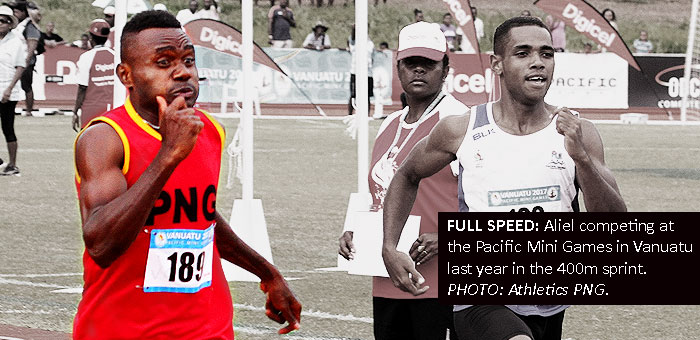 Aliel to train and study in the USA
Papua New Guinea sprinter, Benjamin Aliel flew out to Des Moines, Iowa at the weekend to take up his Oceania Australia Foundation Scholarship at the Southwestern Community College, Iowa.
Aliel, the 400m gold medallist at both the PNG Games and Pacific Mini Games last year was recently awarded a two year scholarship by the Foundation along with Fiji's young sprinter, Elanani Tinai.
Previous PNG beneficiaries of the Oceania Foundation Scholarships have been Sharon Kwarula, Wala Gime, Cecilia Kumalalamene, John Rivan and Theo Piniau.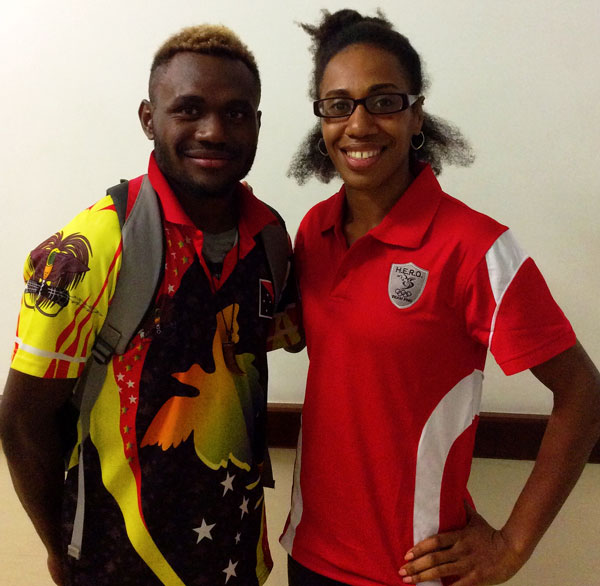 FAREWELLING BEN: Sharon Kwarula (right) with Aliel at the Jacksons International Airport in Port Moresby before his departure for Iowa. PHOTO: Courtesy of Athletics PNG.
Athletics PNG currently has 12 of its athletes in USA Colleges including Piniau who quietly returned to Texas over the weekend to resume his studies at West Texas A&M University after a two year break.
Aliel is of mixed Oro and East New Britain parentage and was brought up in East New Britain where he graduated from Malabunga Secondary School in 2014.
His running qualities were recognised by Athletics PNG in 2014 but with strong competition for places in the national team for the 2015 Games he had to wait for the opportunity to represent his country.
After two years in Popondetta Aliel relocated to Lae early last year. Under training by Coach Allan Akia he produced a series of outstanding performances at the National Championships in Goroka, the PNG Games in Kimbe and at the Pacific Mini Games in Vanuatu.
[ Back to News ]