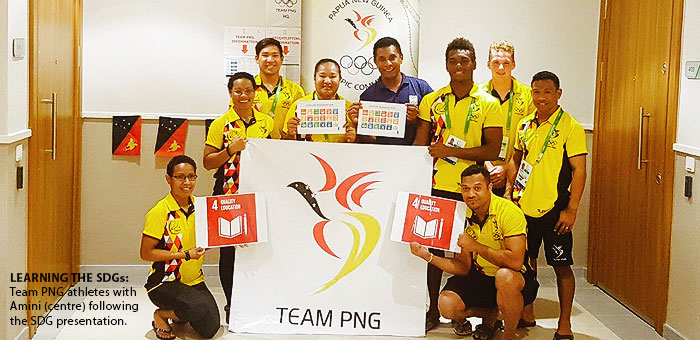 Amini takes team through SDGs
ASHGABAT, TURKMENISTAN: After the completion of competition, Team PNG athletes had an information session about the Sustainable Development Goal, organized by Team Manager and former Barramundis Captain, Chris Amini.
Amini is also one of the five PNG national athletes who are each championing one of five, out of the 17 sustainable development goals.
The other SDG Champions are Milton Kisapai, from the sport of hockey, Tania Mairi Mahuru in Shooting, Lua Rikis from netball and swimming's Ryan Pini.
Amini is the Champion for the SDG Goal number 4 – Quality Education, and in his presentation to the athletes, encouraged them to put their hands up and make a change in their communities.
"With rights, comes responsibilities, and as sports people, we have the responsibility to make a change at community level," Amini said.
During the session, the athletes learnt the importance of some of the Goals such as the need for Quality Education, Good Health and Wellbeing, Gender Equality and others. They also had the opportunity to share what some of these goals mean to them.
Papua New Guinea is the first country through its National Olympic Committee, to involve its elite athletes in championing the SDGs.
[ Back to News ]