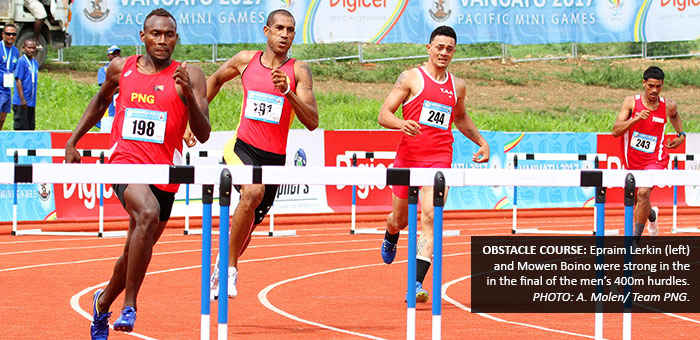 Athletics brings in more medals for PNG
Team PNG won seven gold, three silver and a bronze medal from nine finals on a day of high drama at the Korman Stadium Port Vila today.
Veteran, Mowen Boino who turns 38 years old on Saturday, maintained his dominance in the 400m hurdles that goes back to 2001, winning a close race against teammate, Ephraim Lerkin. Boino has won this event at every Games he has attended since 2001.
PNG also went one - two in the women's hurdles event with Raylyne Kanam collecting gold and Annie Topal the silver.
As expected Toea Wisil won the women's 100m and Nazmie-Lee Marai made it another double for PNG in a dramatic men's 100m final.
Marai initially finished in second place however, Fijian, Aaron Powell was judged to have false started after the race had been run. It was a decision which did not go down well with the Fijian team. However the judges held firm on their decision and the gold medal was awarded to Marai.
Simbai Kaspar rounded off a wonderful afternoon for PNG with a magnificent 5,000m victory in a very entertaining race in which the lead changed several times.
Fijian Avikash Lal had a clear lead at the bell but was run down by a determined Kaspar who made his decisive move with 250m to go. Kaspar was determined to get the gold after settling for the bronze in the 10,000m yesterday.
In the women's 5,000m, Poro Gahekave put up a strong fight and was rewarded with a personal best time of 15min 44 seconds to get silver for PNG.
Newcomer, Benjamin Aliel was the fastest qualifier for the men's 400m final with a magnificent personal best time of 47.99 seconds in a race in which Theo Piniau failed to qualify.
There had been a false start at the first attempt to run the race and Piniau was well into the back straight before he heard the recall.
The race was run too soon for him as he had insufficient time to prepare himself physically and mentally so PNG's hopes in the final will be carried by Aliel and Lerkin.
In the field events, Debono Paraka won a closely contested discus competition with a throw of 50.17 metres whilst 19-year-old Roland Hure won the men's long jump with a national junior record of 7.08 metres.
Jacklyne Travertz broke her own National Record in the women's hammer, collecting the silver medal with a throw of 41.22m.
Wednesday sees a number of gold medal opportunities again for PNG with the 3,000m steeple chase for men and women, Rellie Kaputin and Annie Topal in the triple jump, Adrine Monagi in the heptathlon and the 4x100m relays.
[ Back to News ]