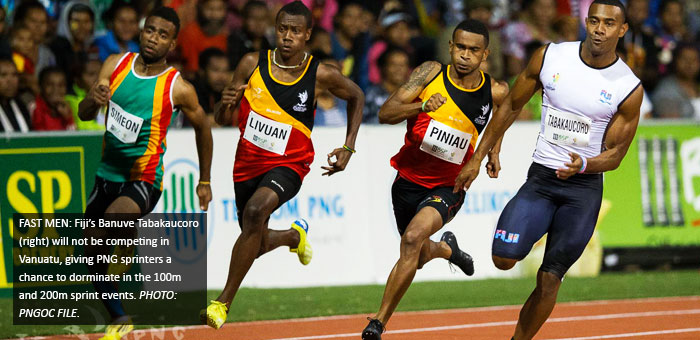 Athletics PNG names Mini Games team for Vanuatu
Athletics PNG has named a 34-strong team for the Pacific Mini Games in Vanuatu in December.
The team of 18 male and 16 female athletes will be supported by the same team management which accompanied the team to Suva in June this year for the Oceania Championships with the addition of Port Moresby based, Nabase Duaba as assistant manager.
PNG will be aiming to maintain its status as the number one team in athletics at the Pacific Games which it has held for the last three Games with 15 gold in Noumea 2011 and in Wallis & Futuna 2013; and 22 gold in Port Moresby in 2015.
The mens team is;
Nazmie Lee Marai (100m, 200m and 4x100m relay);
Theo Piniau (200m, 400m, 4x400m relay);
Kupun Wisil (100m, 4x100m);
Wesley Logorava (100m, 4x100m relay);
Michael Penny (4x100m)
Charles Livuan (200m);
Nelson Stone (4x100m relay);
Benjamin Aliel (400m and 4x400m relay);
Martin Orovo (800m, 1500m);
George Yamak (800m, 1500m);
Ephraim Lerkin (400m, 400m hurdles) 4x400m);
Mowen Boino (400m hurdles);
Peniel Joshua (400m hurdles);
Simbai Kaspar (3,000m steeple, 5,000m, 10,000m, Half Marathon);
Debono Paraka (Shot Put, Discus, Hammer;
Robson Yinambe (Decathlon and 110m hurdles);
Peniel Richard (Long Jump, Triple Jump, High Jump);
Roland Hure (Triple Jump, High Jump).
Womens Team;
Toea Wisil (100m, 200m, 400m, both relays);
Letisha Pukaikia (100m, 4x100m);
Leonie Beu (200m, 400m, 4x400m);
Nancy Malamut (4x100m and 4x400m relays);
Miriam Peni 4x100m;
Shirley Vunatup (400m and 4x400m relay);
Tuna Tine (800m);
Jenny Albert (800m and 1500m);
Poro Gahekave (3,000m Steeple, 5,000m, 1500m, Half Marathon);
Esther Simon (5,000m, 10,000m);
Rellie Kaputin (Long Jump, Triple Jump, High Jump);
Annie Topal (Long Jump, Triple Jump, 400m hurdles);
Raylyne Kanam (400m Hurdles);
Sharon Toako (Javelin, Hammer Throw);
Jacqueline Travertz (Hammer throw);
Adrine Monagi (Heptathlon, 100m Hurdles).
Despite having lost eight of its 14 individual gold medallists from 2015 through retirement or other reasons, PNG will still be the team to beat in Port Vila.
With Fiji being without its talisman, Banuve Tabacaucoro the PNG boys are well prepared to step in and challenge strongly for gold in the 100m and 200m sprint events.
The 400m has traditionally been one of PNG's strongest events and PNG's hopes will be carried this time by Ephraim Lerkin, Theo Piniau and little known national champion, Benjamin Aliel.
Mowen Boino has been undefeated in the 400m hurdles in the Pacific Games competition since 1999 and will be determined to put up a strong showing in his adopted homeland in what is almost certainly his final Games.
Boino's heir apparent, Ephraim Lerkin has, though been in scintillating form this year and was a clear winner at both the Oceania Championships and the Thailand Open earlier in the year.
Both Debono Paraka and Peniel Richard have improved significantly since 2015 and will both be in the hunt for gold.
Following the retirement of Sapolai Yao and Kupsy Bisamo, PNG's hopes in the distance events will be carried by Simbai Kaspar who won gold in the 5,000m at the Oceania Championships.
Team PNG will again be heavily dependent on Toea Wisil to bring home the Gold in the women's sprints.
Multiple record holder in the jumps, Rellie Kaputin will be backed up by fellow East New Britain province athlete, Annie Topal.
Solomon Islander, Sharon Firusia has been a class apart in the women's long distance events in recent Pacific Games and will start clear favourite in the 5,000m, 10,000m and half marathon.
PNG's best hopes for gold will be in the 1,500m and 3,000m steeplechase.
One spot is yet to be filled in the individual women's 100m as well as the 200m and 400m.
These will be filled nearer the time of the Games dependent on the current form of those athletes already selected for the relays, namely Miriam Peni, Letisha Pukaikia, Nancy Malamut and Shirley Vunatup.
The PNG based members of the Athletics team are expected to leave Port Moresby on December 7 and return on the 15.
All PNG based team members and their coaches are expected to liaise with Head Coach, Dior Lowry concerning their participation in the PNG Games.
"Athletes must not run too many events at the PNG Games and leave themselves flat for the Pacific Games," said APNG Secretary, Philip Rehder.
[ Back to News ]