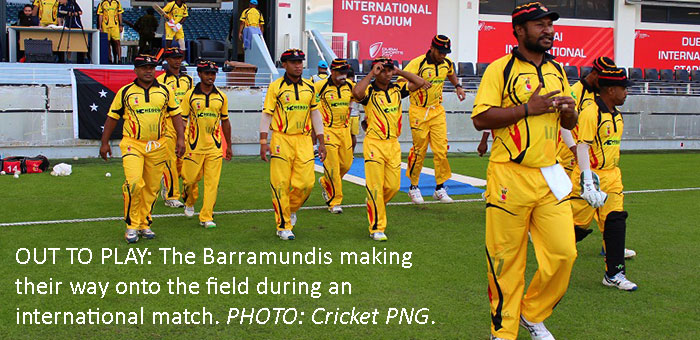 Barras return to region for 2020 ICC World T20 Qualifier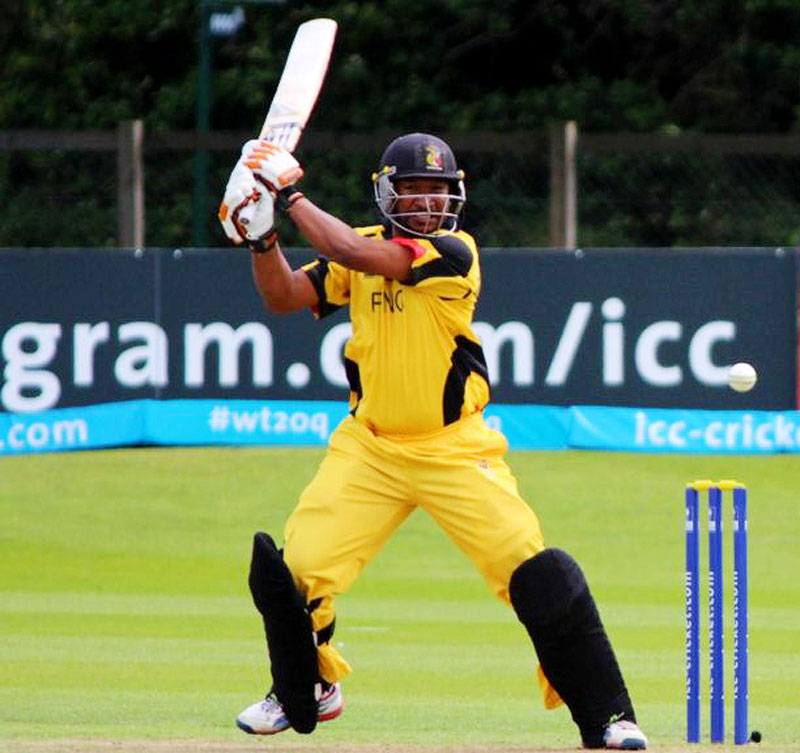 ON THE CREASE: Barramundi captain, Assad Vala will be leading the team into the qualifiers later this month in Suva. PHOTO: Cricket PNG.
The Men's ICC World T20 Qualifier for East Asia-Pacific Group 'A' will mark Papua New Guinea's return to regional competition across all formats of the game.
The Barramundis return after four years and will be facing fellow regional powers, Samoa, Vanuatu and hosts, Fiji. PNG aims to make an impact in its come back and secure a spot in the final which will be held next year.
The tournament is set to commence on Saturday, August 25 in Suva. The last day of competition will be on August 30.
The tournament will be played in a double round robin format with the top two teams at the end of the tournament proceeding to the ICC World T20 – EAP Regional Final to be played in 2019.
Vanuatu finished second behind PNG in the 2014 WT20 EAP Qualifier, and will be looking to carry their recent one day success from the World Cricket League divisional tournaments to the shorter format.
Never to be underestimated, Samoa will also be aiming to make an impression and cause some upsets in their run to qualify for the final.
Hosts Fiji, have home ground advantage, and despite trailing PNG and Vanuatu in recent years are very much going into the Qualifier believing in their ability to get back up the rankings in the EAP region and advance to the next stage of qualification.
Rob Gomm, the ICC's Tournament Director, believes that the qualifier "is a great opportunity to promote and showcase the progress of global cricket development."
"Cricket in the Pacific is increasing in profile, and this tournament is an opportunity for our members to not just play quality cricket, but also to promote the game in Fiji to the Fijian community."
Live scores will be available on https://www.icc-cricket.com.
SQUADS:
Fiji
Sekove Ravoka (captain), Kitione Tavo, Saimoni Tuitoga, Viliame Yabaki, Maciu Gauna, Seru Tupou, Jikoivanualevu Kida, Noa Acawei, Jone Valenikuila, Jikoibure Veikauyaki, Peni Vuniwaqa, Kushaal Ram, Riyad Khan, Jone Batinibulu
PNG
Assadollah Vala (captain), Charles Jordan Alewa Amini (vice-captain), Lega Siaka, Jason Kila, Tony Pala Ura, Sese Bau, Kipling Doriga, John Boge Reva, Nosaina Pokana, Alei Nao, Damien Ravu, Chad Aiwati Soper, Norman Vanua, Steven Eno
Samoa
Faafetai Benjamin Mailata (captain), Lester Evile, Uala Taitoe Sililauga Kaisala, Maletino Lane Maiava, Fred Sapatu, Naamanu Seve Vaasili, Uili Toutai, Faafetaialealofa Vaaetasi, Andrew Joseph Michael, Dominic Peter Michael, Daniel Enese James Burgess, Sean Mikaele Solia, Pasi Kalosi
Vanuatu
Andrew Mansale (captain), Jonathon Dunn (vice-captain), Patrick Matautaava, Jelany Chilia, Nalin Nipiko, Apolinaire Stephen, Joshua Rasu, Clement Tommy, Ronald Tari, Wesley Viraliliu, Williamsing Nalisa, Callum Blake, Jamal Vira, Wolford Kalworai
FIXTURES:
25/08/18
9:30am Fiji v Vanuatu - Ground 1
PNG v Samoa - Ground 2
1:30pm Fiji v PNG - Ground 1
Vanuatu v Samoa - Ground 2
26/08/18
1:30pm Fiji v Samoa - Ground 1
Vanuatu v PNG - Ground 2
28/08/18
9:30am Samoa v PNG - Ground 1
Vanuatu v Fiji - Ground 2
1:30pm Samoa v Vanuatu - Ground 1
PNG v Fiji - Ground 2
29/08/18
1:30pm PNG v Vanuatu - Ground 1
Samoa v Fiji - Ground 2
[ Back to News ]