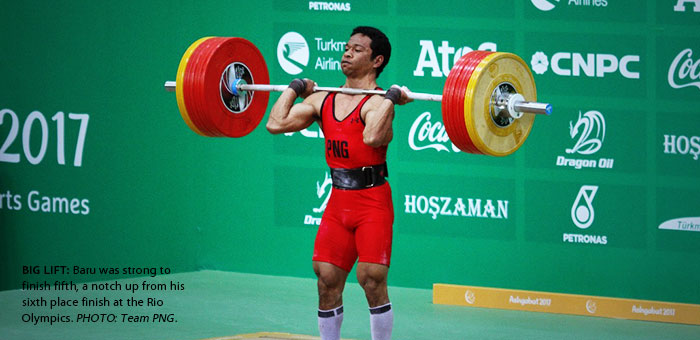 Baru holds his ground in Asian competition
ASHGABAT, TURKMENISTAN: Morea Baru has held off a strong challenge from his Asian rivals to maintain his position as one of the top 10 weightlifters in the world.
Baru went into the Asian Indoor & Martial Arts Games with quiet confidence from his 6th place ranking which he secured at the Rio Olympics in 2016.
Facing off against some of the best in the world, Baru was the only one in the division from Oceania who stood a chance against the Asian Giants.
Competing in the men's 62kg division, Baru lifted 121kg in the snatch and 160kg in the Clean & Jerk. His total of 281kg placed him in fifth place, a notch up from his Olympic mark.
Like Toua, he too was pleased with the result and used the occasion as motivation for the Pacific Mini Games in December this year and the Commonwealth Games in April, 2018.
[ Back to News ]