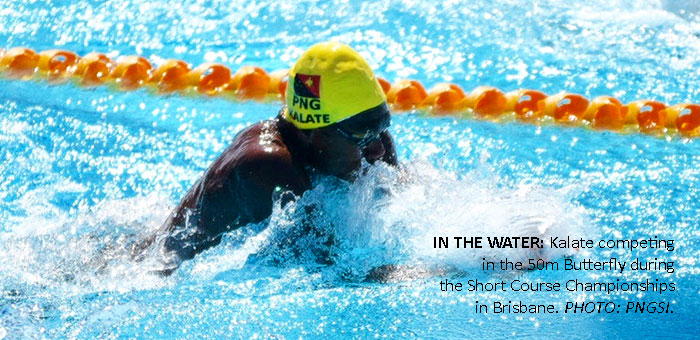 Kalate in brilliant form as YOG nears
Throughout the weekend, Papua New Guinea swimmer, Leonard Kalate proved that he was in brilliant form swimming five personal bests (PBs) in the six events that he competed in at the Queensland Short course Championships in Brisbane.
Kalate took to the pool on the weekend looking to smash his personal bests (PBs) in six events and was pleased with results he got.
Going into the tournament, he had hoped to improve his times and test his fitness in the build up to the Youth Olympic Games which he will be attending in October 6 to 18 this year.
In the 50m Breastroke, Kalate was able to swim a time 30.05 seconds reducing his PB by .71 of a second and finishing in the top 8.
In the 100m Breastroke, he dropped 1.65 seconds off his PB with a time of 1:05.89.
He swam a time of 24.55 seconds in the 50m Freestyle, and 53.67 in the 100m Freestyle.
Finally, Leonard stopped the clock in a time of 26.76 seconds in the 50m Butterfly with a new PB and placing 13th in the 15-18 age group division.
Leonard will stay on in Brisbane for an extra week where he will train under Yeronga Park Coach, Rob Van Der Zant. There, he will look to continue training and improving his technique and fitness in the lead up to Youth Olympics where he is aiming to do his country proud.
[ Back to News ]