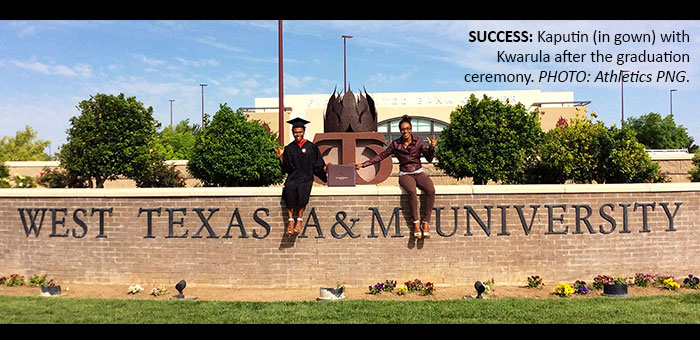 Kaputin completes college programme in USA
Papua New Guinea Commonwealth Games athlete, Rellie Kaputin has graduated from West Texas A&M University in the United States of America after a four and half year College programme which has seen her excel as a track & field athlete.
Athletics PNG President, Tony Green witnessed the graduation ceremony along with a number of Kaputin's fellow PNG team members including Sharon Kwarula, herself a graduate from the same University.
"Rellie's parents couldn't be there so it was great to see many of her friends there to celebrate her big day with her," said Green.
"We are all so proud of Rellie for what she has achieved, and make no mistake about it, she has had to work incredibly hard to get this far," he said.
In PNG a lot of people believe that students have to sacrifice their sporting endeavours to be successful in school, but both Rellie and Sharon have shown that with determination, hard work and sacrifice, the two can be combined.
During her four year Collegiate Athletic Career, Kaputin has won multiple national titles and many other awards, as well as winning three gold medals at the 2015 Pacific Games and two gold and one silver at the Pacific Mini Games last year in Vanuatu.
She has also set many national records in the high jump, triple jump and long jump. Kaputin will remain in the USA for the summer before relocating to Australia in October where she will train with Coach, Phillip Newton.
Kautin's aim is to focus on the long jump with the aim of qualifying by right to attend the Tokyo 2020 Olympic Games.
Athletics PNG and the PNG Olympic Committee are currently seeking a sponsor for Kaputin to support her in this endeavour.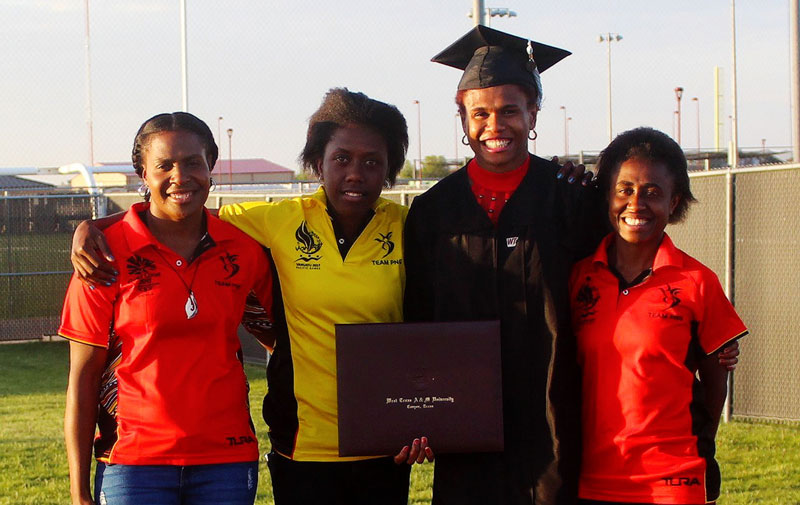 FRIENDS: Fellow Papua New GUinea thletes and good friends, (L-R) Sharon Toako, Annie Topal, Rellie Kaputin and Esther Boram at Kaputin's graduation ceremony in Texas. PHOTO: Athletics PNG.
[ Back to News ]