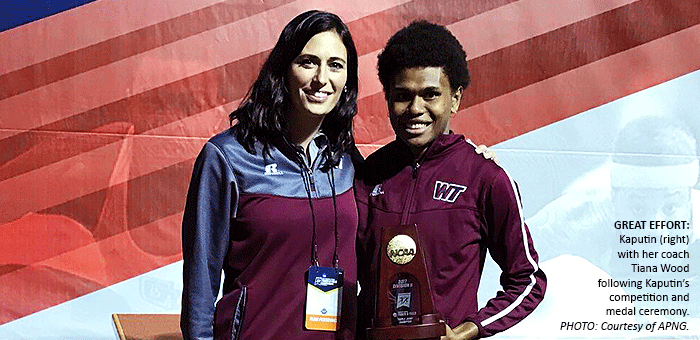 Kaputin keeps good run in tact
Rellie Kaputin lived up to her growing reputation as a big meet performer with another outstanding championship performance in Birmingham, Alabama last weekend.
The 23 year old from Tinganalom village just outside Kokopo, won the triple jump with yet another PNG National record of 13.09metres, came second in the long jump and placed sixth in a very tightly contested high jump competition.
Kaputin won three gold medals at the 2015 Pacific Games, all with record breaking performances and scored 14 points for her team by placing in three events at the 2016 outdoor national championships.
First up was the long jump where Kaputin once again displayed her competitive edge by leapfrogging two athletes with her last jump to claim second place.
In the triple jump her third effort of 13.09m put her beyond the reach of her rivals and the real competition was for second place which was won by her team mate, Malika Ouedraogo with 12.70m.
With the title almost assured, Kaputin was able to start the high jump and cleared 1.62m, 1.67m and then 1.70m all at the first attempt whilst the triple jump competition was still in progress.
In the end only one athlete cleared 1.76m and Kaputin was one of five athletes to clear 1.73m, finishing sixth as a result of having needed three attempts to clear that height.
Meanwhile, 19 year sprinter old Afure Adah continued her recent good form by clocking a personal best 24.40 seconds in the 200m.
Such was the strength of the competition however, that was not sufficient to make the final.
Adrine Monagi finished just outside the medals in the Pentathlon despite a huge effort in the last event where she clocked an impressive 2min 25 seconds for the 800m.
Peniel Richard was unable to reproduce his recent good form in the triple jump and after registering 14.57m in his first jump, two fouls left him outside of the top 9 who proceeded to the final.
[ Back to News ]