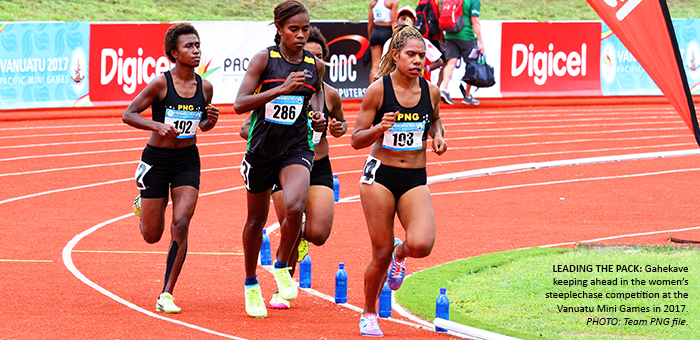 LCU recruits Gahekave to continue training
Following a successful programme at the South Plains College in Texas, USA, Poro Gahekave has relocated 26 miles to the east, at Lubbock Christian University (LCU) where she recently secured a full scholarship for two years to run track and cross country.
Gahekave, first represented Papua New Guinea at the age of 14 in the 2007 Pacific Games in Samoa where she won the inaugural steeplechase gold medal. She was PNG's most successful track & field athlete at the recent Pacific Mini Games in Vanuatu, winning two gold and two silver medals.
Her performances at South Plains College over the last couple of years caught the attention of LCU Head Coach, Nick Cordes. He was delighted to recruit Gahekave and said that they found her to be an "amazing young woman."
"Since arriving on campus, she quickly fitted in very well with the team and has been a real pleasure to be around.
"We look forward to helping guide Poro to new fitness levels and personal best times," Cordes said.
Gahekave, who is of mixed New Ireland and Eastern Highlands parentage, is studying economics and chose LCU over other schools because it is a small campus and a Christian University.
"With less than 2000 full time students and a student/teacher ratio of 13 to 1, it is easy to see why Poro enjoys being at LCU," said Athletics PNG Secretary, Philip Rehder.
"She recently commented that everyone she interacts with knows her by name and she is not just a number. She said that the people there are very friendly and her professors and coaches are delightful people to work with," Rehder reported.
"Coming to the US to study and compete for a College is a journey for me," said Gahekave.
"There have been hard times on the way but I always look on the positive side and towards the future.
"There have been times where people say I couldn't make it to where I am right now but one person that always cares about the PNG athletes is Tony Green (Athletics PNG President). He is the one that is always there no matter how hard things get.
"I thank him for always supporting all the athletes including myself," said Gahekave.
[ Back to News ]