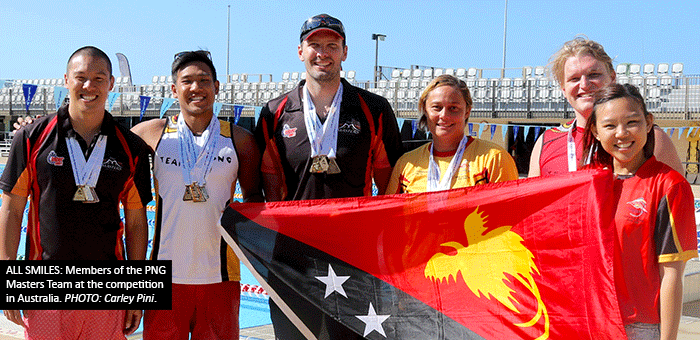 Medal haul for PNG masters
By Maureen Mopio-Jane for PNG Masters Swimming
The Papua New Guinea Masters swimming team won 10 gold, three Silver and two Bronze medals at the Australian Masters swimming competition that was held at the Gold Coast Aquatic Swim Centre in Southport, Australia from the March 8 to 11 March, 2017.
The team of seven comprising of Annika Seeto (25 – 29 years), Ben Fretten, Anna-Liza Mopio-Jane, Ashley Seeto (30 – 34 years), Dimity Frazer, Shannon Liew and Ryan Pini (35 – 39 years) participated at the recent championships.
The PNG Masters competed in their individual races as well as mixed medley, mixed freestyle relays and the men's medley and men's freestyle relay teams.
PNG Masters swim team won gold in all their relay events.
The men's 4x50m medley relay also broke the Australian Record by four seconds, which was set in 1989.
The following are individual results for the PNG Masters Swimming team.
Frazer - Silver (50m backstroke); Liew - Silver (100m breaststroke), Bronze (50m backstroke) and (50 breaststroke); Mopio-Jane - Gold (50 freestyle and 50 backstroke); Pini - Gold (50m butterfly and 50m freestyle); Ashley Seeto - Gold (50m breaststroke, 100m breaststroke and silver (50m freestyle).
The Australian National Masters swimming competition attracted swimmers up to 99 years old, the next competition will be held in Western Australia.
[ Back to News ]