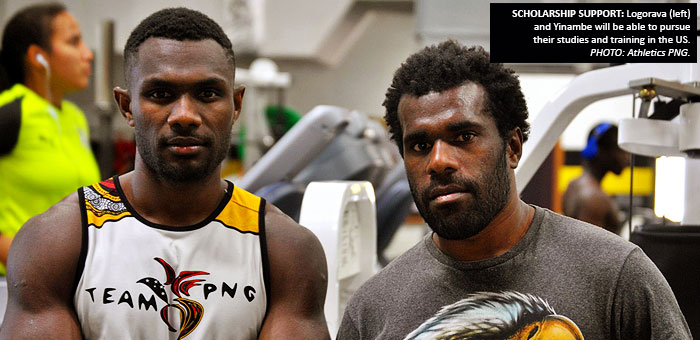 Oceania Australia Foundation makes studies possible for athletics duo
The Oceania Australia Foundation has come to the assistance of two Papua New Guinea student athletes currently attending Cloud County Community College in Kansas, USA, with a grant of US $6,000 per annum each. This will go towards the total cost of their education, board and lodging.
Robson Yinambe, gold medallist in the decathlon at the 2015 Pacific Games and Wesley Logorava, a member of the gold medal winning men's 4x100m relay team also at 2015 Pacific Games, jumped at the opportunity to take up studies at Cloud in January 2017.
Unfortunately, at the time Athletics PNG had only secured sufficient funding for their first year and since then have been looking for sponsors to enable them to complete their programme at Cloud.
The Oceania Australia Foundation is a not for profit, non-political organisation located in Australia. One of its aims is to educate young people from disadvantaged communities, including by way of scholarships to overseas colleges.
The Foundation responded favourably to a submission from the PNG Olympic Committee to support Logorava and Yinambe.
"This support takes away all the uncertainty over the continuation of this programme for Wesley and Robson," said Athletics PNG President, Tony Green.
"The boys are extremely grateful to the Foundation for its support as it means they don't have to worry about payment of school fees, living expenses, etc, and can focus fully on their studies and training towards the Pacific Mini Games and Commonwealth Games," he said.
Speaking on behalf of the Foundation, Executive Officer, Helen McMurray said that they had taken note that both students had excellent academic records.
"We hope that Robson and Wesley, with this support, will strengthen both their academic and athletic profiles and be able to secure scholarships in 2019 that will enable them to obtain university degrees," she said.
[ Back to News ]