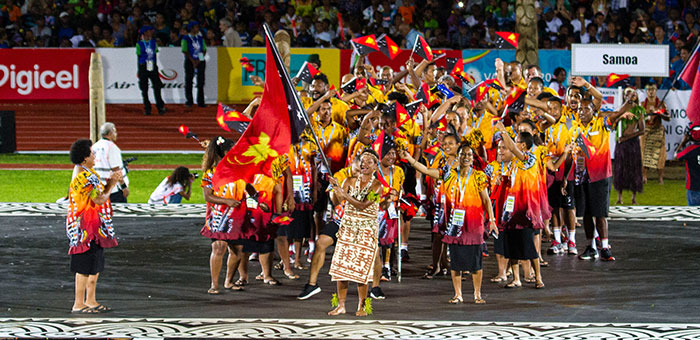 Pacific Mini Games with spectacular display
The Xth Pacific Mini Games was opened last night with a thrilling display of traditional cultural performances, modern music and the largest fireworks show that Vanuatu has ever seen.
All 23 participating countries graced the evening with a display of their best colours with a chorus of cheer from the packed stands at the Korman stadium in Port Vila.
Team PNG was led out by their Flag Bearer, Kristine Seko from the sport of golf. She was dressed in her traditional attire from the Oro province and proudly held the Papua New Guinea national flag high with the team following behind with a choir of the team chant.
Prime Minister of Vanuatu, Charlot Salwai opened the Games and encouraged athletes and officials from the visiting nations to enjoy the hosts' hospitality and the company of each other through a spirit of friendship and respect. He thanked them for being a part of this Games and wished them well for their respective competitions.
Prime Minister Salwai also acknowledged and thanked the Government of PNG for their support of the Vanuatu team during the 2015 Pacific Games in PNG.
President of the Pacific Games Council, Vidya Lakhan encouraged all teams to showcase their countries through sports while doing their best in their respective disciplines.
As a part of the Opening ceremony, Vanuatu's founding fathers, the designer of their national flag as well as their past athletes from the first Pacific Games in 1963 and the second one in 1969 were featured.
Traditional performances representing the six provinces of Vanuatu with a mix of contemporary dances brought the night alive. One of Vanuatu's well-known Pacific artist, Vanessa Quai was the star attraction performing the Games song.
A spectacular show of fireworks display ended the ceremony and planting the seeds of excitement for the next two weeks of sporting festivities.
The Pacific Mini Games will end on 15th of December.
[ Back to News ]