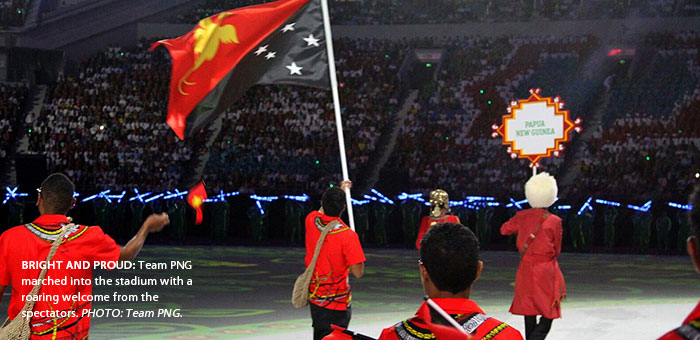 PNG flag graces AIMAG Opening Ceremony for the first time
Papua New Guinea's flag soared high last night as Team PNG entered the Ashgabat Olympic Stadium and took their place alongside 64 other countries from Asia and Oceania in what was a spectacular opening ceremony for the 5th Asian Indoor & Martial Arts Games.
Leading the contingent was swimmer and PNG's 50m breastroke record holder, Ashley Seeto, followed by the Chef de Mission, Michael Henao and the contingent comprising swimmers and weightlifters.
A roaring welcome echoed around the stadium as Papua New Guinea's eye catching red, black and gold colours of the national flag caught the attention of the crowd as it was raised while Team PNG walked out.
"It was a tremendous experience and a proud moment to be able to carry the flag," Seeto said.
"So far, that was the highlight for me," he added hinting that he is looking forward to flash the flag once more when he hits the pool on the 25th of September.
The grand welcome saw the President of Turkmenistan, Gurbanguly Berdimuhamedov doing a ceremonious tolling of the bell and giving his blessings to mark the start of the Games.
Competition commenced two days ago but will certainly heat-up as the 4500 athletes set out to claim sporting glory in one of the 347 medal events, across 21 sports.
For the Papua New Guinea, weightlifter, Thelma Toua will launch her campaign at 3 o'clock this afternoon, when she takes to the platform in the 48kg division.
[ Back to News ]