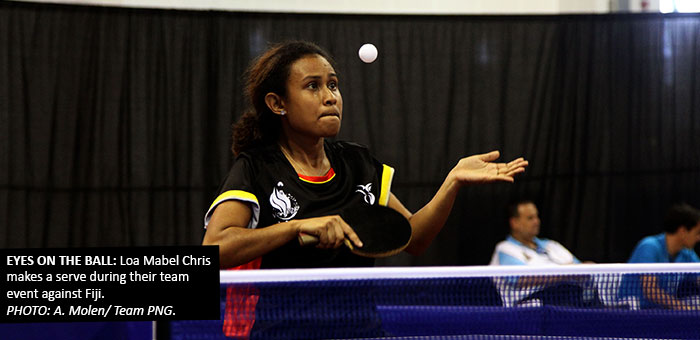 PNG Table Tennis makes bronze final
PNG's table tennis teams for both the men's and women's advanced to the finals for the bronze medal play-off in day 3 of competition at the Xth Pacific Mini Games in Port Vila.
The PNG women had to play for the bronze after beating the Solomon Islands and went on to face Fiji. PNG's Idau Boni Chris and Loa Mabel Chris put up a brave fight but could not go past the Fiji outfit who triumphed 3-0.
In the men's division, Geoffrey Loi, Gasika Simoi and Haoda Agari put up a strong performance against Tuvalu wining 4-1 to advance to the bronze play off as well.
They too faced Fiji but were not able to secure the bronze medal for their country as they went down 3-1.
Meanwhile competition for the singles and Para table tennis will continue through to Saturday (6th December) for the medal play offs.
Other competitions have also began for PNG which includes golf, tennis and beach volleyball while weightlifting went into its second day of competition.
In tennis, Mathew Stubbings won his first match where he was up against Tonga. Stubbings won the match 6-1, 6-2.
The beach volleyballers had a great day in the sand with both the men and women winning all their games today.
The men beat Kiribati 21-18, 21-18 in the first match and over powered Solomon Islands 21-14, 21-14. The women also faced Kiribati and beat them 21-5, 21-10.
PNG got two more gold and a silver medal in weightlifting through Toua Udia in the men's 77kg division. This extends Team PNG's lead in the Pacific Mini Games with 11 gold and 1 silver.
[ Back to News ]