President Green visits ENB on Athletics mission
With travel restrictions within Papua New Guinea being lifted, Athletics PNG President, Tony Green visited East New Britain (ENB) last week and had meetings with Athletics personnel on the ground there.
They discussed the revised calendar for 2020 including the NGI Regional Championships.
Green paid a visit to the remote Utmei Secondary School in the inland Baining LLG of Gazelle District where National Distance Coach, Bernard Manau is the Principal.
With the World Cross Country Championships scheduled for March 2021 in Australia, and with other international events coming up next year, Athletics PNG are looking at ways to assist athletes to prepare.
One option under consideration for the distance runners is to bring another three athletes over to ENB to join the five currently training under Manau.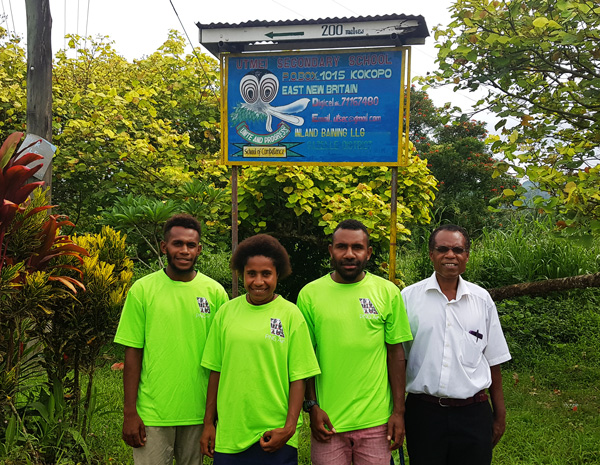 IN SCHOOL: PNG Athletics coach and Principal of Utmei Secondary School, Bernard Malau (right) with the athletes who also attend his school in East New Britain province. PHOTO: Athletics PNG.
Green said that there are currently three national squad members who are at home and not working or in school so it makes sense to bring them into a group training situation where the athletes can all help each other.
"We've done this many times in the past in Lae and Goroka and we had a big group training in Kokopo in 2013/2014 before most team members went overseas to prepare for the 2015 Games," said Green.
Simbu athletes, Mary Tenge and Siune Kagl who were both medallists at the 2019 Pacific Games are attending school at Utmei.
Also attending the same school with them are two up and coming distance runners, Monica Kalua and Israel Takap from the Duke of York Island.
Green said that having a World Championships in Australia is a once-in-a-generation opportunity and APNG wishes to make the most of this by giving its athletes the experience of rubbing shoulders with the very best distance runners in the world.
"This event dates back to 1973 and has only ever been held once in the Oceania Region and that was in New Zealand in 1988.
"Obviously, an event of this nature will only go ahead in March 2021 if the world has managed to contain Covid-19 and a semblance of normality has returned to international travel.
"However, we want to be ready when international competition does resume," said Green.
[ Back to News ]