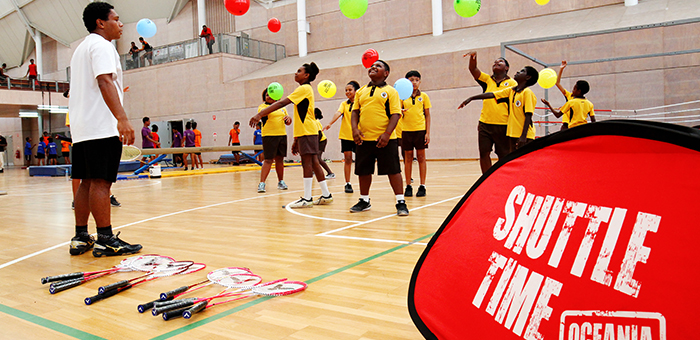 Shuttle Time good for children's development
Shuttle Time is one of Badminton Oceania's leading development programmes which is implemented across 16 Member Associations.
These Member Associations include; Australia, Cook Islands, Fiji, Guam, Kiribati, Nauru, New Caledonia, New Zealand, Norfolk Island, Northern Marianas, Papua New Guinea, Samoa, Solomon Islands, Tahiti, Tonga and Tuvalu.
Findings from a recent study, lead by Michael J Duncan at Coventry University, proved that Shuttle Time hosted a number of benefits for schoolchildren's fundamental movement skills.
Funded by the BWF Sport Science programme, the 'Dose Response Effects of the BWF Shuttle Time Programme on Children's Fundamental Movement Skills, Motor Fitness and Physical Activity' study was conducted on 158 children (83 boys and 75 girls) aged 6-9 from two primary schools over a 10-week period.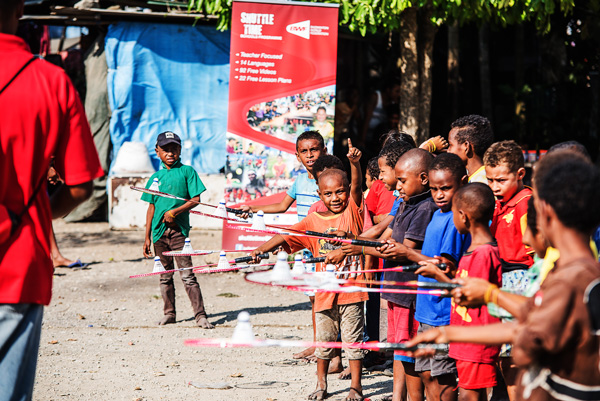 SHUTTLE-TIME: Children in PNG participating in a Shuttle-Time programme activity. PHOTO: Oceania-Badminton.
For the exercise, the children were divided into three batches. One batch underwent Shuttle Time training twice a week, another once a week.
The third batch continued their regular twice-a-week PE classes, which consisted of one session focused on cricket and another on hockey and basketball.
Tests on FMS (locomotor and object control skills), perceived FMS and motor fitness were assessed before, immediately after and 10 weeks later.
Researchers filmed the children and analysed how competent they were in their FMS, and asked them to self-assess how well they thought they could perform different movement patterns.
Their findings revealed that engaging in Shuttle Time improved the children's FMS immediately.
More importantly, it was maintained for 10 weeks after the intervention had finished, demonstrating Shuttle Time's sustained and lasting impact on their FMS.
Those who undertook Shuttle Time twice per week saw larger improvements in their FMS than the group that did it once.
Motor fitness (movement outcomes) produced similar results.
The children demonstrated improvements in 10m sprint speed and standing long jump distance post-intervention and 10 weeks after.
This is a significant finding since FMS development is related to lifelong health, well-being and academic achievement.
To develop FMS proficiency, appropriate activities need to be implemented during PE classes. BWF recognises Shuttle Time as an effective means to develop FMS for children aged 5-15. Although badminton-related, Shuttle Time can also apply to a range of sports and physical activities.
The results suggest that Shuttle Time has a positive short term and sustained (post-10 weeks) effect on children's FMS and motor fitness.
It presents an effective mechanism to develop positive health trajectories for children, giving them the fundamental movement skills to lead physically active lives both as children and into adulthood.
Shuttle Time continues to grow in Oceania, with almost 500 teachers trained and 90,000 participants in 2019.
Find out more about Shuttle Time at [BadmintonOceania.org/Shuttle-Time]BadmintonOceania.org/Shuttle-Time. Contact details for each Member Association in Oceania is available on [badmintonoceania.org/Member-Associations]badmintonoceania.org/Member-Associations.
SOURCE: Badminton-Oceania
[ Back to News ]