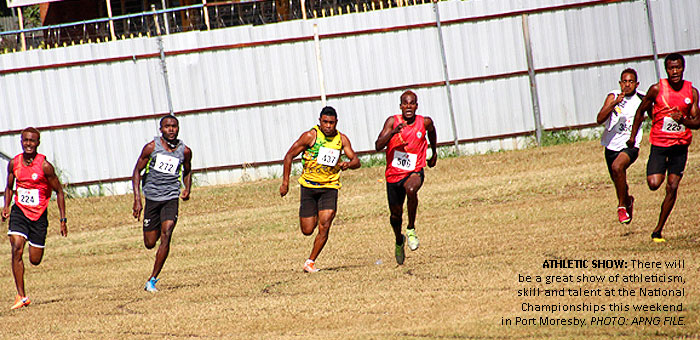 Stage set for National Championships in Port Moresby
The stage is set for the PNG Air National Track and Field Championships to get underway tomorrow at the Sir John Guise Stadium in Port Moresby.
Hosts Port Moresby are prepared to welcome 16 teams from Lae, Central, Gulf, East and West New Britain, Manus, New Ireland, Simbu and Eastern Highlands. The final number of participants is expected to be around 350.
PNG Games 400m winner, Isila Apkuk will be the sole representative from East Sepik. Travel has been a major headache for many teams with three teams who were relying on provincial government support still waiting for news on their tickets as of 5pm on Thursday.
Athletics PNG President, Tony Green commended those teams including Lae and East New Britain who faced up to the financial reality and informed their athletes in sufficient time to find the necessary money for their airfares.
Meanwhile, Athletics PNG has assured those athletes who miss out on the Championships due to travel difficulties that they can still be considered for the Pacific Games if their performance in other competitions warrants this. A circular explaining this has been distributed and can be viewed on the APNG website.
The events will start on Friday afternoon with heats for Open and U18 men in 800m, the women's 5,000m final, 400m semi-finals and the men's 10,000m.
Depending on the number of entries it may be necessary to run heats for the 100m in certain divisions. If not there will just be semi-finals and the finals on Saturday.
Field events get underway on Saturday after the Opening Ceremony with a full range of events over the two days.
The Papua New Guinea Paralympic Committee are now working closely with Athletics PNG and their athletes will be catered for at the Championships.
Green thanked sponsors PNG Air, Prima Smallgoods, Trukai Industries, Lae Biscuit Company, Panamex Pacific and Laga Industries for their support.
Jumps coach, Phillip Newton will be visiting for the championships and with next year's Pacific Games in mind, will be on the lookout for new talent in the hurdles and jumping events.
He will be accompanied by coach, Luke Donatini. Old friends of PNG, Bob Snow and Tom Brandt are also in the country for different reasons and will be at the Championships.
[ Back to News ]