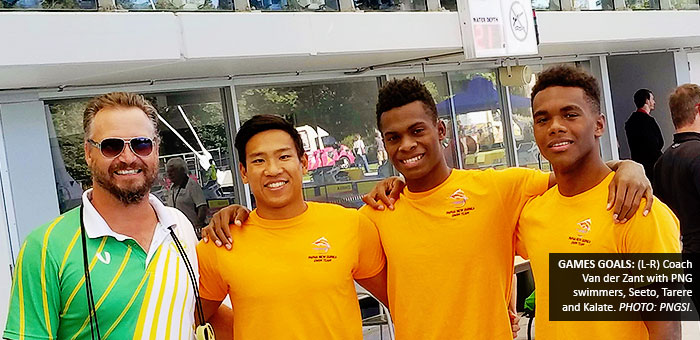 Success at the Victorian State Swimming Championships
January saw three of the five swimmers endorsed by the Papua New Guinea Olympic Committee (PNGOC) for the Commonwealth Games team, travel to Melbourne for the Victorian State Championships.
The annual event held from the 12th to the 14th of January at the Melbourne Sports and Aquatic Centre (MSAC), saw some of Australia's best swimmers race in preparation for the Commonwealth Games trials being held at the end of February.
The swimmers swam extremely well in tough Melbourne conditions led by the experienced Ashley Seeto whom marginally missed swimming the B Final of the 50m breaststroke by 0.01. Leonard Kalate recorded personal bests in his 50m breaststroke and 50m freestyle while Josh Tarere also produced two personal bests in his 100m freestyle and 50m butterfly.
The competition was a great lead up event for the Commonwealth Games, especially for Tarere making his international debut.
Post competition, Kalate and Tarere trained in Brisbane for two weeks with Yeronga Park under selected coach for the Commonwealth Games, Rob Van der Zant.
Kalate and Tarere have now returned home to Lae and back into full training in hopes of competing in April at Gold Coast in the pool events at the Commonwealth Games for Papua New Guinea.
Seeto has resumed training at Gold Coast and will join Sam Seghers and Ryan Maskelyne in competing at the Australian Commonwealth Games Trials at the end of February.
The final preparation meet for the five swimmers will be at the Theodist PNG National Championships being held from the 16th to 18th March at the Taurama Indoor and Aquatic Centre in Port Moresby.
[ Back to News ]