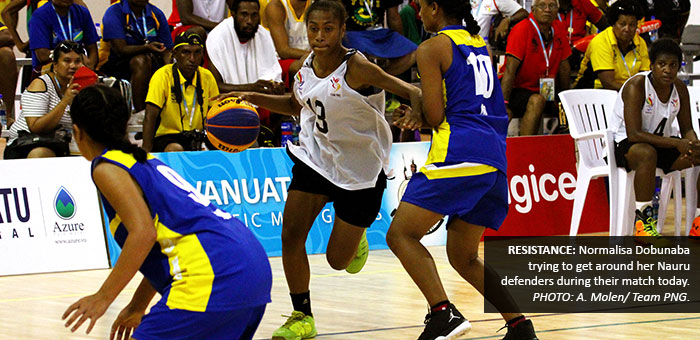 Team PNG on a roll on day 8
It was another good day for Team PNG at the Pacific Mini Games as they performed exceptionally well as they collected 11 medals in athletics.
The team also won all their matches in beach volleyball and basketball while Mathew Stubbings gets closer to the finals after forfeiting his Fijian opponent.
Stubbings did not play as scheduled as the Fijian pulled out. Stubbings' next match will be tomorrow (Wednesday 13, December) giving him a good start for the semi -finals in the men's singles competition. He will face New Caledonia.
The PNG men's beach volleyball team continued their good run with their power spikes on the sand beating. They beat Cook Islands by two sets (21-3, 21-10) to nil to win. The PNG women also won two sets (21-16, 21-19) to nil against Guam in their pool match today.
The PNG men's 3x3 basketball team has been impressive so far with their outstanding performances wining all of their matches on the second day their competitions.
They were unstoppable against American Samoa to win 18-5, and Nauru (21-7) and also Vanuatu (11-4). The women's team came out firing today as well winning all three of their matches against Fiji (13-6), Nauru (21-7), and Vanuatu (15-6).
Both teams will be playing their semi-final matches tomorrow with the winner going through to the final. Their opponents will be finalized.
The PNG boxing team will get their chance to bring PNG up when they step into the ring tomorrow as their competition begins.
Their fights will commence at 1pm local time and first up will be Tamasi Kami in the over 91kg against Samoa. He will be followed by John Ume in the 64kg against Nauru.
Andrew Aisaga in the under 69kg will fight at 7pm that evening against Solomon Islands. The finals PNG bout will see Lucas Wakore in the under 81kg going up against a Tahiti boxer representing the Pacific Games Council (PGC).
These are all quarter final matches with the winner going through to the semi-final the following day.
[ Back to News ]