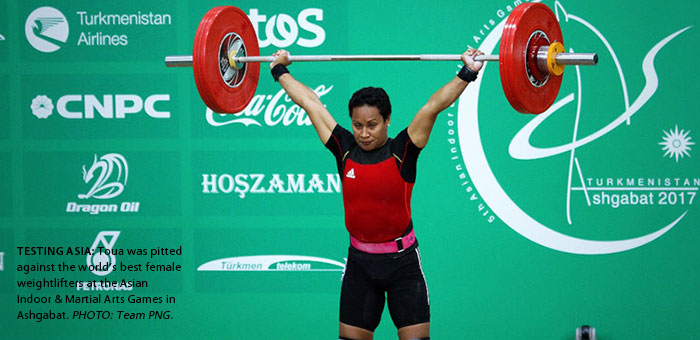 Toua finds her place in Asian competition
ASHGABAT, TURKMENISTAN: With the Pacific Mini Games and the in December this year and the Commonwealth Games in April, 2018, weightlifter, Dika Toua is finding her way back amidst stiff competition at the Asian Indoor & Martial Arts Games.
Snatching 78kg and powering 108kg in the Clean & Jerk, the pocket dynamo's total of 186kg secured her a fifth place finish among 11 competitors.
Toua was pleased with the result knowing that the Asian region had a much higher level of competition and it was always going to be tough going up against competition giants in the likes of China, Philippines, Turkmenistan and Thailand.
"The Asian region is the toughest in the world because we're looking at world champions, and we are here competing for the first time," Toua said.
She added that this has boosted her knowing that she can stand up strong against some of the world's best.
Toua was 17 years old when she became the first female weightlifter to take the stage at the Olympics in Australia in 2000 when women's weightlifting was first introduced at the Olympics.
She is now the record holder in Oceania and the 2014 Commonwealth Games gold medallist in Glasgow, Scotland.
After pitting herself against her Asian rivals, Toua now looks to make a strong come back for the Commonwealth Games at Gold Coast in 2018.
[ Back to News ]