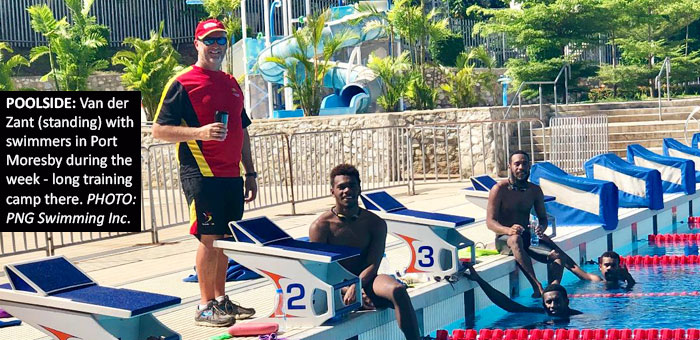 Van der Zant takes swimmers through camp
Papua New Guinea's swim team members have kick started their year on a high note with the support of Australian coach, Rick Van der Zant. He is in Lae for a week hosting a week-long training camp. Van der Zant completed a week with the Port Moresby based swimmers and is now in Lae with the swimmers there.
Van der Zant has a vast experience with the PNG team having coached the national side at many of the major international tournaments. He has worked closely with the country's Commonwealth Games gold medallist, Ryan Pini when Pini trained in Brisbane at the Yeronga Park Swimming Club.
He was Pini's coach when Pini went on to win the gold medal at the 2006 Commonwealth Games in Melbourne. More recently, Van der Zant was the head coach for PNG at the Oceania Swimming Championships and also travelled with the young team to the FINA World Championships last month in China.
The swimmers are utilizing that experience and making the most of the opportunity of the sessions led by Van der Zant. The camp aims to help set up the athletes for a big year ahead with the Pacific Games six months away. In the lead up to that, a team will be sent to the Arafura Games as part of their preparations.
Van der Zant with the help of the local club coaches are getting the swimmers prepared for the National Championships in March which will be the selection event for the Pacific Games team.
The coaches and athletes have greatly benefitted from their time with Van der Zant and will be stepping up their preparations as the Games get nearer.
[ Back to News ]