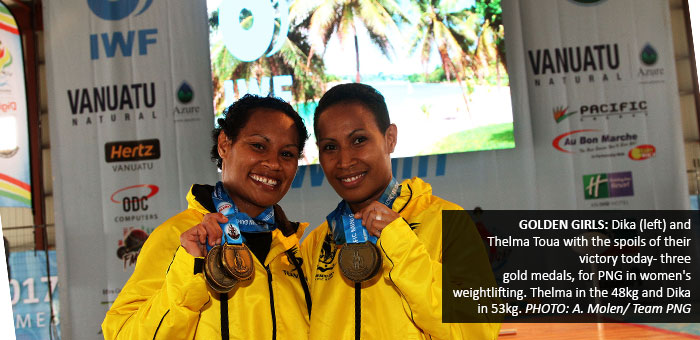 Weightlifting draws first golds for PNG
Toua sisters, Dika and Thelma bagged six gold medals in weightlifting for Papua New Guinea to send Team PNG off to a great start at the Pacific Mini Games in Vanuatu as day 1 of competition kicked off.
Thelma Toua collected the three gold medals in the Women's 48kg division with 65kg in the snatch, 85kg in the Clean & Jerk and a total of 150kg.
The silver went to Fiji's Seruwaia Malani (Snatch 50kg, Clean & Jerk 65kg) while the bronze place was left vacant due to the small number of competitors in the division.
Her older sister, Dika's three gold medals came in the 53kg division where she lifted 80kg in the Snatch and 110kg in the Clean & Jerk for a total of 190kg, setting a Pacific Games record in the Clean & Jerk and the total.
Solomon's Mary Lifu took the Silver in the Snatch (65kg) and Clean & Jerk (85kg) and Total (150kg) while Fiji's Arieta Mudunavoce settled for the bronze in the Snatch (56kg), Clean & Jerk (70kg) and Total (126kg).
Both women were confident of winning the medals but knew there was always going to be strong challenge from the other competitors.
"I was really happy with the performance, I picked up from my snatch on my third attempt. The first attempt was a disappointment but then I got the second one and the third one," Toua said.
Thelma also shared similar sentiments saying they had to come out stronger after both failing to lift in their first attempts.
"I missed the first lift and I was down a bit but when I came back, I got much confidence from the support from the crowd and especially, Team PNG," Thelma said.
PNG's Vice Minister for Sports, Wesley Raminai was on hand to present medals for Dika's division after watching both of them compete.
Raminai was proud of the achievement and very pleased with the two women's performance saying the win puts PNG ahead despite competition only starting in the Mini Games.
[ Back to News ]