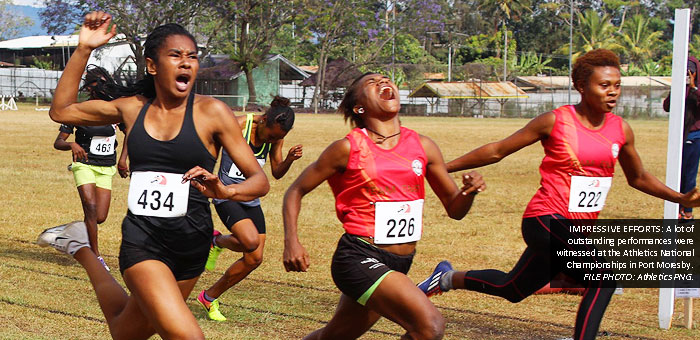 Young athlete draws interest of Athletics coach at Nationals
A young athlete competing in the Papua New Guinea national athletics championships over the weekend in Port Moresby has drawn the interest of specialist jumps and multi events coach, Phillip Newton.
Robert Oa who was taking part in the jumps competitions drew interest from Newton who was looking out for new talent to develop.
Oa has been competing in the jumps for the last two years and has shown great improvement which Newton believes can be improved further.
"Robert is very raw and needs to improve his running technique, but that can be easily fixed," said Newton.
"He has all the physical attributes to become an outstanding decathlete," he said.
Newton, who has been working with Athletics PNG since 2014 was on the lookout for new talent that can be developed for the Pacific Games next year.
Accompanying him was Coach, Luke Donatini who will perform the role of Coaching Director for the PNG Athletics team for the Pacific Games.
Another athlete who impressed Newton was 17 year old Edna Erik from Lae who ran the women's 200m and 400m. Newton recommended that she be prepared for the heptathlon.
Eldon Tioti (ENB), Daniel Baul (NCD) and Shadrick Tansi (Central) who have all been on the Athletics PNG radar for a couple of years, each stepped up significantly to stake their respective claims for places in the team for the 2019 Games.
Tioti who has returned to his native East New Britain after completing his secondary education in Port Moresby, gave Peniel Richard a very strong challenge in the long jump.
He finished second with a leap of 7.15metres to Richard's 7.19m.
Tansi set the scene for a high quality men's 400m final when he registered the fastest time in the heats with 49.01 seconds. However, Ephraim Lerkin and Emmanuel Wanga both used their experience and saved something for the final.
He improved to 48.88 seconds in the final but had to settle for third place as Lerkin powered to a personal best of 47.92secs with Wanga in second place.
Baul won the men's 400m hurdles in 55.00 seconds and placed fourth in the 400m final.
Having the 400m hurdles heats sandwiched between the 400m heats and the final on Saturday was tough on Baul and he did very well to clock 49.02 in the 400m final.
Another athlete to show significant improvement was the National Sports Institute-based
Abel Siune. He tracked Simbai Kaspar for three and a half laps before outsprinting him in the home straight to win the men's 1500m in a huge personal best of 4min 16 seconds.
There were many other good performances including Leonie Beu who won the women's sprint double in impressive fashion, Isila Apkup in the women's 400m, Chelsea Garesa in the women's 100m, Lyanne Tibu and Mary Tenge in the middle distance, and Ratu Hou in the men's 110m and 400m hurdles.
Donatini was impressed with the Javelin throwing ability of young Falton Hori from Jiwaka as well as ENB's Bryan Adavu who threw 51.96m in the open men's Javelin competition.
Elizah Ryan of ENB was outstanding in the under 18 long jump and high jump while in the under 16 division, Sama Kore from Central Province performed very well.
On the track, Julian Lei and Paias Wisil both impressed in the Under18 100m final while Terrence Talio of NCD made the open men's 100m final. He finished fourth behind established sprinters, Michael Penny, Charles Livuan and Linus Kuravi.
In the U14 girls 100m race, Jonnica Manau of ENB was the runaway winner clocking 15.63seconds.
Athletics PNG and its coaches will now study the results carefully and make some additions to its training squad for the Pacific Games.
[ Back to News ]