Charles Martin
Charles Martin - The Swimming Sensation from Ela Beach
Date of Birth: 13th July 1955.
Place of Birth: Port Moresby, Papua New Guinea.
Now lives on Thursday Island, Torres Strait, Australia.
.......................................................................................
He was born on Gemo Island off the Port Moresby harbour and due to the leprosy colony and TB hospital stationed there, many thought he was not going to make it. 16 years later, Charles Martin was Papua New Guinea's Sportsman of the Year.
While based in Lae, Martin was the youngest swimmer to represent the Territory of Papua & New Guinea at the 1970 Commonwealth Games in Edinburgh, Scotland. The swim team included Hall of Fame member, Nigel Cluer, Max Mowen and Neal Bostock.
Martin's journey in swimming began when he was a boy swimming at the Ela Beach in Port Moresby. There was a swimming carnival on and he went over to look and ended up participating.
"I was beaten in that race and after the swim I was really cross because I didn't like to lose," he said.
Upset with the loss, Martin began training with the aim of returning to the event to win. With the support of his father he followed a swimming programme and developed the fitness and strength to face his challengers again.
The following year, Martin returned to the carnival and this time beat everyone that had passed him the year before.
"It was then that I thought, 'this is alright,' I think I'll give it a go," he said.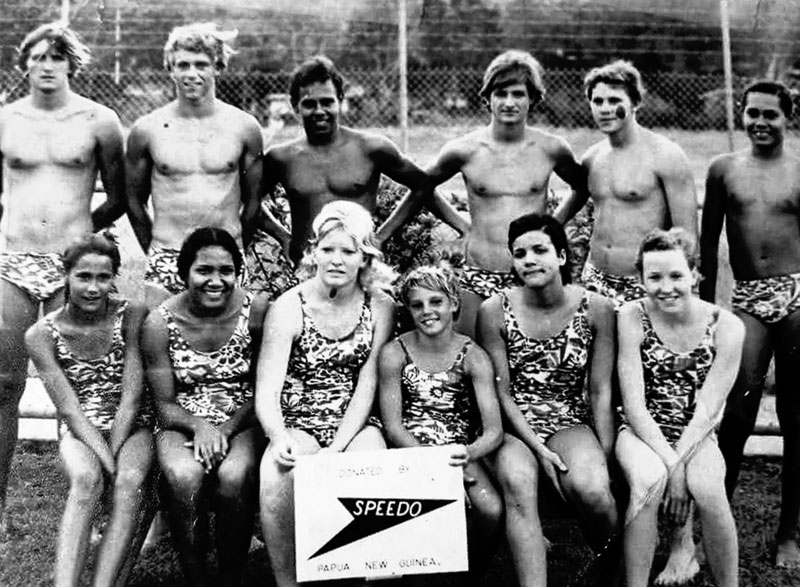 SWIM TEAM: Martin (third from left) with his team. FILE PHOTO.
In 1973, Charlie swam in the Queensland State Championships and won the Men's Open Butterfly State Title.
He was the Papuan Sportsman of the Year awardee in 1972 and in 1973 won the PNG Sportsman of the year Award.
Martin was still a student at the Port Moresby High School and Lae High School when he gained selection into Territory of Papua and New Team to the 4th South Pacific Games in Papeete, Tahiti in 1971 and the 5th South Pacific Games in Tumon, Guam in 1975.
"The joy of representing your country and winning is something I can't describe. It's just something that you can see in people's eyes.
"When you win you feel really good but in the background there's all the feelings of sacrifice, feelings of fulfilment, the good feeling for your country, yourself, your family and your neighbourhood where everybody knows you.
"And you feel proud of yourself, your family, your coach and everybody," he said.
In Papeete, Charlie won six gold medals and two silver medals while in Guam he won four gold medals and four silver medals. In total, Charlie had won 16 medals altogether for PNG.
Martin was inducted into the Papua New Guinea Sports Hall of Fame on Thursday November 22, 2018.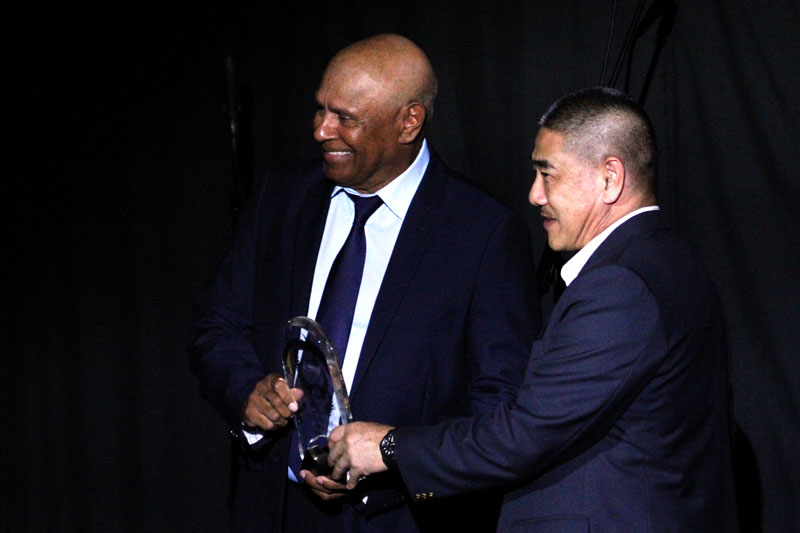 INDUCTED: Martin (left) receiving his trophy from Chairman of the PNG Sports Foundation, Ian Chow during the induction ceremony. PHOTO: A. Molen/ PNG Olympic Committee.
Achievements
1971 South Pacific Games, Papeete, Tahiti, French Polynesia
Gold medal
100m Backstroke,
200m Freestyle,
400m Medley Relay,
4x100m Freestyle Relay,
1500m Freestyle,
Silver medal
200m Individual Medley,
400m Freestyle,
1975 South Pacific Games, Tumon, Guam
Gold medal
100m Butterfly
100m Backstroke,
100m Butterfly,
200m Individual Medley,
Silver medal
200m Freestyle,
4x100m Medley Relay,
4x100m Freestyle Relay,
4x200 Freestyle Relay,